"I had golf clubs in there as well, but they didn't take that.

"
–
LPGA Star Georgia Hall
on thieves stealing the Women's Britsh Open trophy from her car's trunk.
We're all feeling a little depressed this week as golf's major season officially wrapped up This weekend's tournament at Sedgefield C.C. in Greensboro, North Carolina marks the end of the PGA Tour regular season, but is also golf's equivalent of cramming the night before the final exam.
The drama could not be any higher as the 156 golfers in the field are fighting for one of three things:
Their PGA Tour cards

 

A gateway into the

Korn Ferry Tour Finals

Positioning in the

FedEx Cup Playoffs
As The Cut advertises to be read in five minutes or less, we don't have time to get into the specifics, but here is what you need to know…
If you are in the top 125 in FedEx Cup standings following the tournament, you get into the FedEx Cup Playoffs. Notable bubble players are Alex Noren (125), Daniel Berger (131) and Jason Dufner (136).
If you are ranked between 126-200, you're on your way to the Korn Ferry Tour Finals to try and earn your Tour card.
For those ranked 201+, you're heading back to Q-School possibly with Charl Schwartzel (192) and Ben Crane (200) to earn your Korn Ferry Tour card.
Whew!
The answer, my friend, is blowin' in the Wyndham
THE RANGE OR GYM TO WARM-UP?
Brooks Koepka has become professional golf's version of the "Trunk Slammer" – you know, the guy who screeches into the parking lot minutes before his tee time, races to the first tee with his shoes barely tied, takes a few half-assed practice swings then shoots lights-out. 
Sure, he was 45 minutes early for his final round 65, but what was most interesting is that he took exactly ZERO swings on the range.  According to Golf.com, Koepka said, "I'm already loose when I get to the golf course…I've already stretched, I've already done everything."
Proper warm-up has always been a hot topic, especially in the golf fitness world, and what we've learned is that the pros use the range more as a relaxation tool vs. a physical warm-up. 
Like most professional athletes, golfers do the important warming of their muscles before they hit the public's eye (LeBron James does his important work in the hallway beneath the stands, not the shootaround). 
More and more, we see guys with the rubber band getting loose at his cart while the masses are spending energy hitting 30+ balls on the range.  Maybe that guy knows something?
In what seems like a weekly occurrence, Sergio Garcia threw yet another tantrum following an errant tee shot, and his peers may have had enough.  Last week at the WGC event, the mean ol' tee box on #16 unfairly forced a snap hook and he was having none of it.  To show who's the boss, he took a sizable, retaliatory gouge (not to be confused with a divot) out of the tee box.
His latest transgression, was just 10 days after he was caught on video at the 2019 Open Championship throwing his driver at his caddie following a bad shot.  Luckily, his looper had cat-like reflexes and caught it like he was starring in The Matrix.  The funny part of this story is that his brother was caddying for him, so we may have to give him a pass.  I mean, who hasn't wanted to throw a club at their brother?
Lest we forget his disqualification for his inconceivable performance at the Saudi International.  Not only did he admit to purposely doing damage to five greens with his spikes and putter, but his tantrum in the bunker is one any 3-yr-old would be proud to call his own.
Is it time for Sergio to sit out a few weeks, or does the suspense waiting for his next meltdown make golf more fun to watch?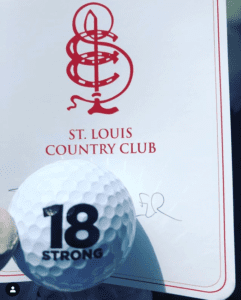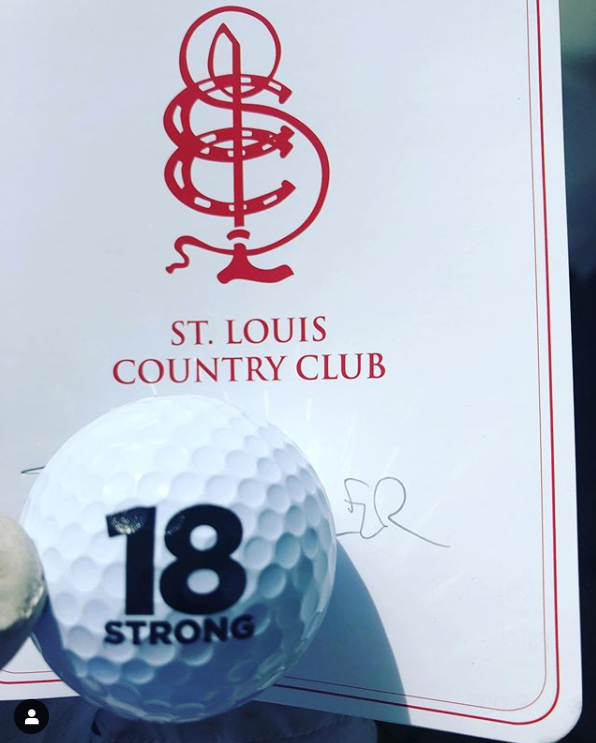 18STRONG making an appearance at, what is widely considered, the best course in St. Louis, MO.