FOR SEPTEMBER 12, 2019         By RYAN MCMULLEN



"My average drive is about 300 yards."  – Every delusional golfer I've ever met. 
GREENBRIER CLASSIC OPENS THE SEASON
Yes, you read that correctly.  After a long 3-week hiatus, the PGA Tour begins the 2019-2020 campaign this week at the Greenbrier Classic, a.k.a. A Military Tribute at The Greenbrier, in White Sulphur Springs, West Virginia about 4 hours west of Washington D.C.  While most of the big names won't be competing, the field is chock full of up-and-coming talent vying for their share of the astonishing $7.5M prize money.
Following a season of media ridicule, player jabs and excruciatingly painful 4-minute, 8-ft putts, the biggest storyline and the favorite to win, Bryson DeChambeau, will be under the microscope as the golf world has a stopwatch on his every shot.  The PGA Tour can either proceed with business as usual and allow paint-dryingly slow play, or send a message at the first event of the season that the spectators who pay our bills demand a faster pace.  We'll find out soon enough.
Homonym of the Day: There is an underground bunker at The Greenbrier.  No, it's not a hazard to keep mole golfers honest around an underground mole green, but a hazard that was built at the height of the Cold War in 1959 for Congress to continue functioning in the event of a nuclear holocaust.  It has since been decommissioned, but like true capitalists can now be toured for $39/person.
The sorted tail of a deeply berried bawl
The hardest part about being a professional golfer on the PGA Tour is not earning your card, but keeping your Tour Card.  Each year, 50 new golfers join the PGA Tour from the Korn Ferry Tour (formerly the Web.com Tour), and each year, roughly 21 aren't invited back.
It's worth noting that, of the 50 "new" golfers who join the tour each year, most aren't new to the PGA Tour.  60% of players who are promoted have had PGA Tour Cards in the past.  Essentially, there are only 20 true rookies who make it each year from the Korn Ferry Tour.
It's easier said than done, but the best way to stay on the tour…win an event!  It doesn't matter if you are last on the FedExCup points list, a win earns you a 2-yr exemption.  After all, winning fixes everything.  
TONY "PHENOM" HITS 200 MPH
With swing mechanics only Happy Gilmore would be proud of, Tony Finau set the Twitter universe on fire with his clubhead speed of 136.8 and 200.0 mph ball speed.  Using the widely accepted formula of every 2.5 mph of club head speed equals 1 yard, the #12 ranked player in the world easily carried 350+ yards.  Judging by the tee box elevation, I'd guess much closer to 400 yards of carry…carry!
You may be asking yourself, "How can I hit the ball 400+ yards like the professional golfer who joined the tour at 17 yrs-old?"  Spoiler alert: you can't.  But odds are that you are leaving 23 yards of distance on the table.
In 2015, Golf Digest did a study of how 150 average golfers hit their drivers, and the results were all too familiar.  Us mortals are doing three things wrong, 1) launching the ball too low, 2) generating too much backspin, and 3) not making solid contact with the center of the face. 
Had Jeff Foxworthy not grown up a redneck, but instead on the course, he could have made millions from, "You might be a golfer…"  As in, "If you've ever spent $500 on a mass-produced piece of equipment but didn't have it fitted…you might be a golfer."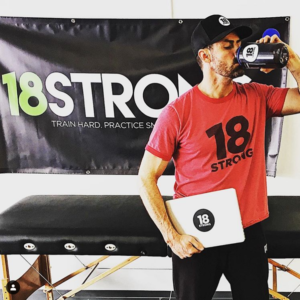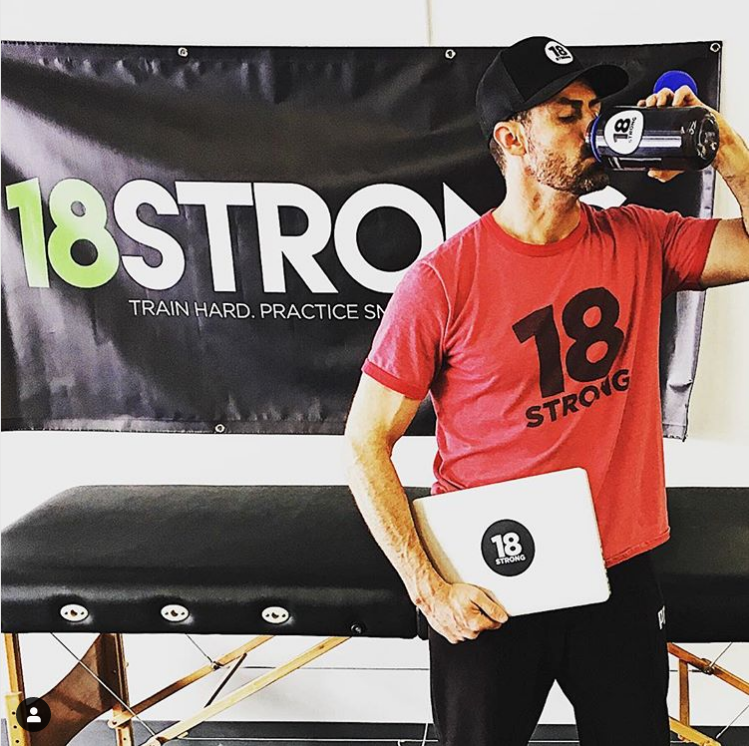 Jeff doing his best NASCAR driver impression and shamelessly promoting 18STRONG while thinking to himself, "If you ain't first, you're last."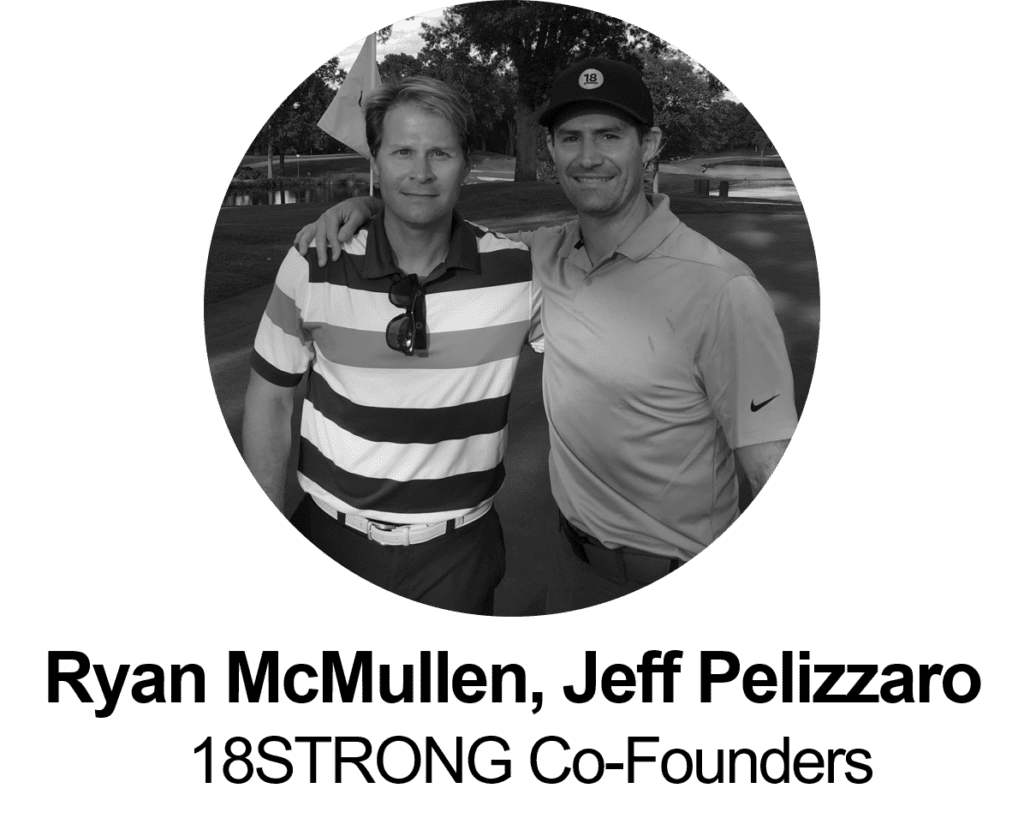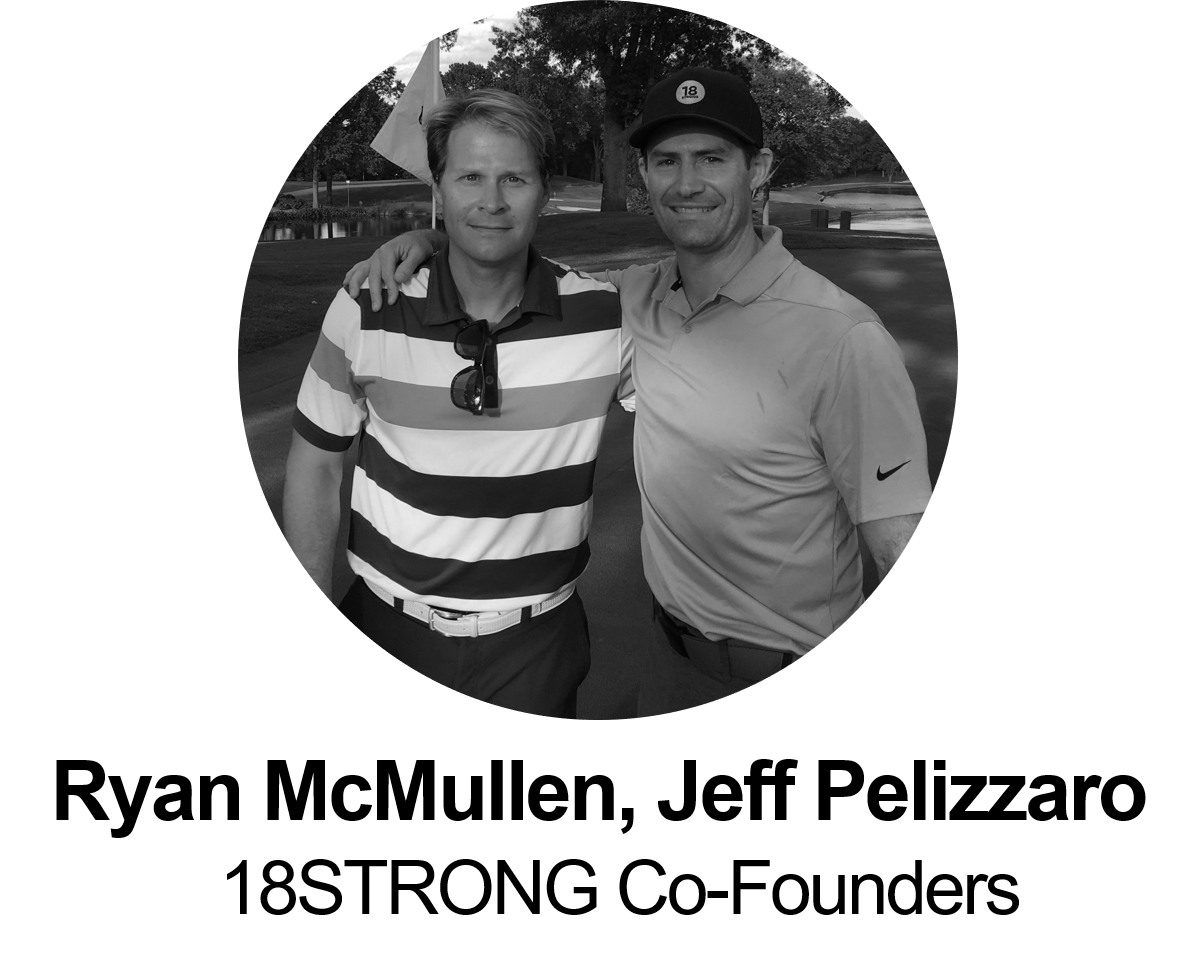 …check out this week's podcast with Liesbeth "Lizzy" Pauwels, one of the premier golf fitness and yoga instructors in the Netherlands, on to talk about her golf fitness journey and the growing state of golf fitness in Europe as compared to North America.