FOR SEPTEMBER 19, 2019         By RYAN MCMULLEN



"Geezus, it's not that bad."  – LPGA's #3-ranked player, Lexi Thompson's spot-on reaction following an overly-pessimistic "fore" by a spectator or volunteer. CLICK HERE for the heroic video and look-of-death. 
WEEK #2 - SANDERSON FARMS CHAMPIONSHIP
In only the second event of the young PGA Tour season, the boys head to Jackson, Mississippi for the Sanderson Farms Championship at the Country Club of Jackson.  While Jackson is best known as the state's capital, the SFC is best known as the tournament where the winner gets the greatest looking rooster trophy in all of sports. 
The 20-yr-old and first-time tour winner last week, Joaquim Niemann is this week's favorite with a "weak" field behind him vying for their share of the $1.2M purse.  Other than Joaquim trying to win back-to-back weeks or last year's big-hitting winner Cameron Champ trying to get back on track is the professional debut of 17-yr-old Akshay Bhatia, the high-school phenom, #5 ranked World Amateur and Walker Cup veteran.
The elder statesmen on tour delaying their participation in most early fall events provides a tremendous opportunity for the young guns on tour, so there is a lot on the line – wins and accompanying exemptions, prize money, in certain cases (like this weekend) FedExCup points, sponsorships, and even more prize money.  
Every time a rooster crows, a golfer gets his Masters exemption
GOOD FOR YOU, KEVIN CHAPPELL
On a soft and low-score-promoting course at Greenbrier last Friday, Kevin Chappell drained 9 consecutive birdies on his way to an 11-under 59!  While he's certainly not a household name, he's been a solid player on tour for years, so it could easily be conceived that he was capable of getting hot for only the 10th score of 59 in tour history (Jim Furyk shot a 58 at the 2016 Travelers to own the record). 
What you may not know is that he was playing his first PGA Tour event in nearly a year after undergoing back surgery.  He shot a 73 and 72 over the weekend and only managed to finish T-47, but what a great way to start the comeback for a golfer who lost all feeling in his left leg just last Thanksgiving. 
Note: Shooting 57 and owning the all-time record was in his grasp, but his superstition may have got the better of him.  According to Chappell, he won't play a ball after he birdies with it.  He certainly didn't think he would rattle off 11 birdies in his round, so had to reuse two different balls on the last two holes – both of which he did not birdie.  Either way, he's the feel-good story of the season so far.  
I WANT TO PARTY WITH YOU, PAT PEREZ
There are many philosophical questions us golfers ask ourselves and each another.  Heck, our very own 18STRONG Podcast wraps up with Jeff asking, "Who is your dream foursome?"  Most answers are meaningful, some emotional and some funny – all are entertaining.
A question I have yet to hear is, "Which professional golfer would you most want to see an Iron Maiden concert with?"  Now, it may never be worth asking as Pat Perez rocked out over the weekend in Vegas following a $10,000+ dinner tab for his wife and one other couple during an epic night.   
The story, narrated by Pat's wife Ashley on Instagram is one of love, rock 'n' roll, excess, $14 cucumber salads and sweet, sweet mullets.  It's business in the front; party in the back as usual for Pat Perez.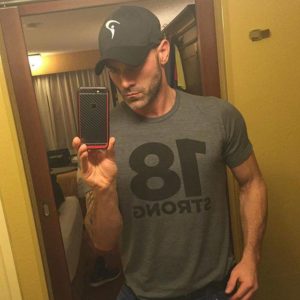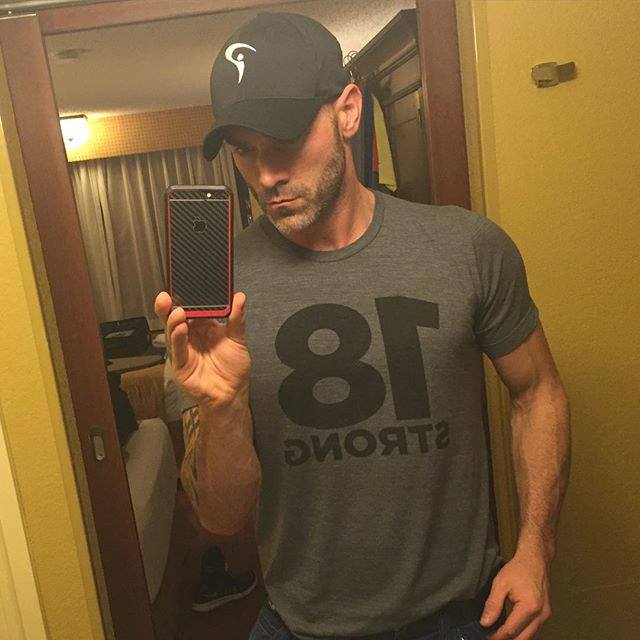 Personal trainer, fitness model and the most ripped guy we personally know, Olly Foster rocking his 18STRONG gear.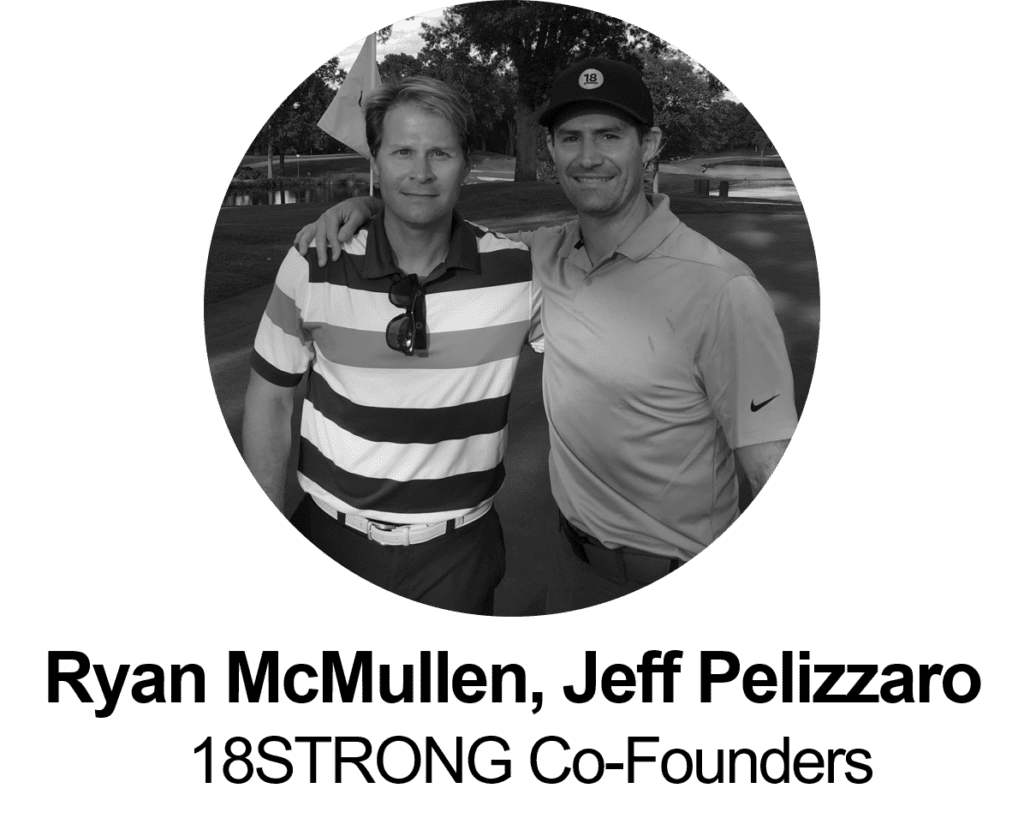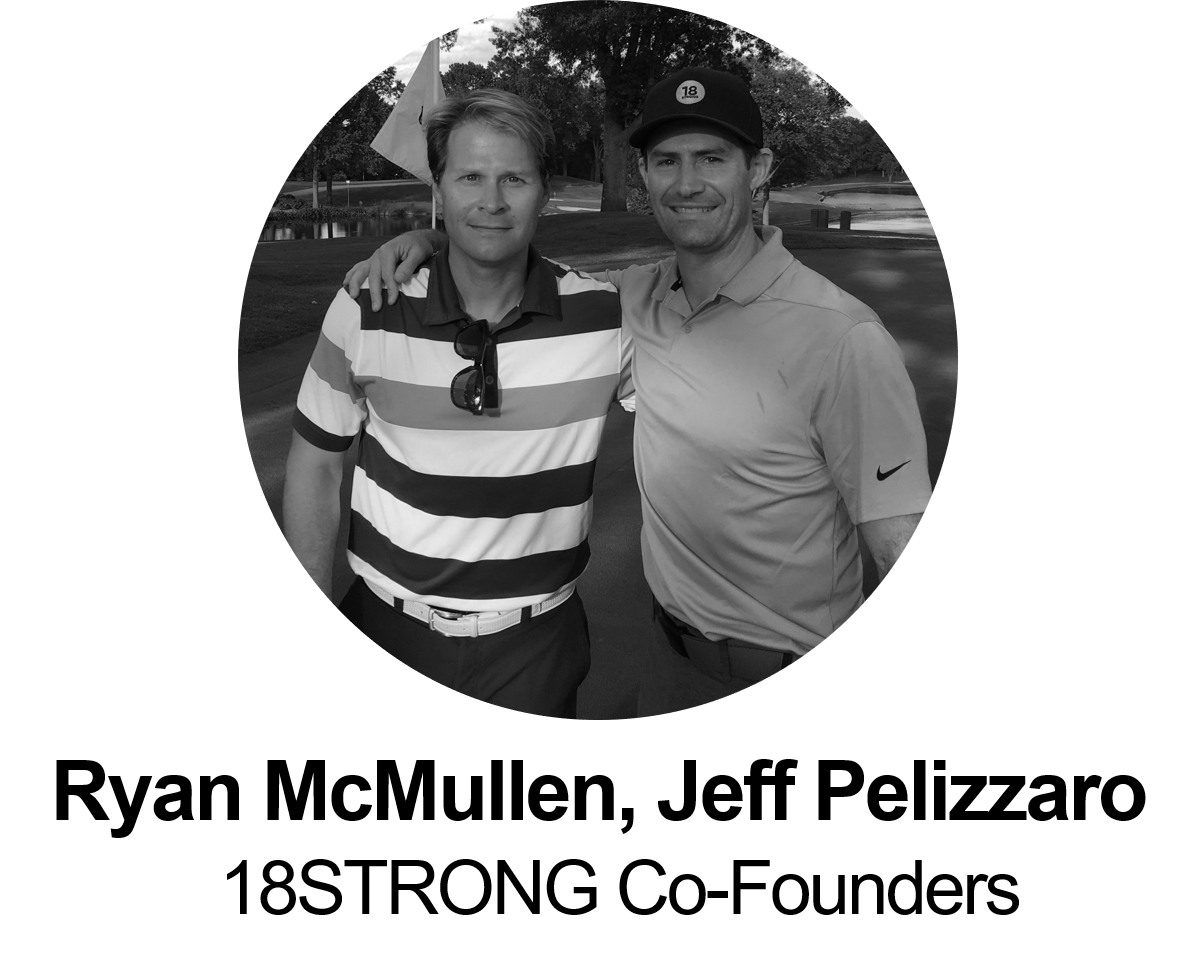 …check out this week's podcast with Markus Westerberg, author of The Golfer's Sixth Sense and world-renowned golf coach.