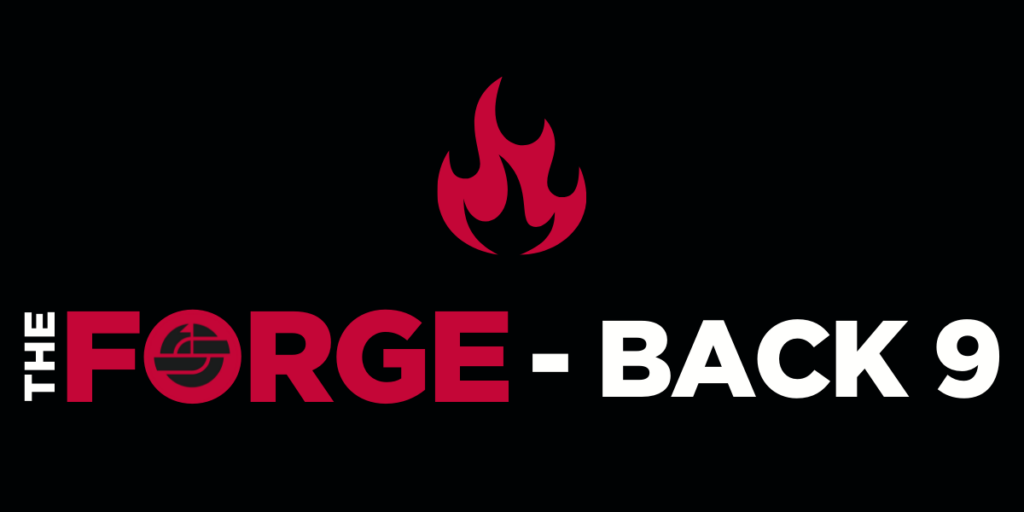 Watch the video below for further description/instruction for the daily tasks.
A MESSAGE ABOUT THE FORGE: BACK 9
NON-NEGOTIABLE DAILY TASKS
For the 40 consecutive days, you will complete each of the following*:
1. MORNING WATER:
Drink 24 oz. of water as the 1st thing you consume for the day (preferably with a squeeze of real lemon).
2. DAILY MOTION – "EFD+"
Complete the 5-7 minute Daily Motion mobility routine (download here) as you have for the initial 40-Day FORGE, plus the following 4 exercises.
Elbow Touches
Put your 1st knuckle on each temple and repeat 30 repetitions. Try to pull the elbows back as far as possible, and then touch them together in front of your face each time.
Small Shoulder Circles
30 repetitions with the palms down, going forward. 30 repetitions with the palms up going backward.
Side Hip Plank
Hold for 60 seconds (or do as many times as you need to get to 60 seconds). Repeat on other side.
Thoracic Wall Sit
Hold one of the positions in the video for 60 seconds (or do as many times as you need to get to 60 seconds)
3. MEDITATION / BREATHING
Perform at least 20min of MEDITATION, BREATHING EXERCISES, or INTENTIONAL QUIET TIME. This is a time to put down the devices unless specifically being used for the purpose of this task. This can be done as 1 continuous 20-min session, or two 10-min (or more) sessions in one day.
4. COLD SHOWER
Take a 2-min (or longer) cold shower or cold plunge. It is recommended to take at the end of your regular shower in the morning, but not required.
5. INTENTIONAL PHYSICAL ACTIVITY – "IPA"
Perform at least 40 consecutive minutes of intentional physical activity ("IPA") that is intended to challenge you. This is primarily referring to workouts, but can also include intentional practice sessions and/or playing golf.
6. DIET & ALCOHOL COMMITMENTS
Create your own personal commitments for your nutrition and alcohol consumption. Write them down on the sheet provided below.
7. GOLF SWINGS (R&L HANDED)
Perform 5 golf swings both Right and Left-handed without a golf ball. Then perform one 60-second slow-motion golf swing on your dominant side. Pay attention to your balance and visualize your perfect swing. Emphasize full-range of motion, especially in the end range of your backswing, your impact position, and getting to a full follow-through.
*NOTE: Golf swings are to be completed individually and can not be included in your IPA.
8. 1-MINUTE MAXOUT
Perform 60 seconds of a high-intensity exercise (do not exceed 60 seconds) at least one time during the day. (this can be part of your "IPA")
9. PERSONAL DAILY COMMITMENT
Choose one task (this can be completely unrelated to fitness or golf) that you commit to doing every single day. This task is meant to be something that you know will help move you further in some facet of life but you have been putting off. Commit to doing it every day.
---
SUPPORT MATERIALS
In order to help you succeed on this journey, we have created a few resources that we encourage you to use:
40-DAY CALENDAR:
This calendar has all of the tasks listed out each day for 40 days. We encourage you to print this out and cross off your tasks and days when they are officially completed. (You'll find it incredibly gratifying when you see all 40 days crossed off at the end of this journey!)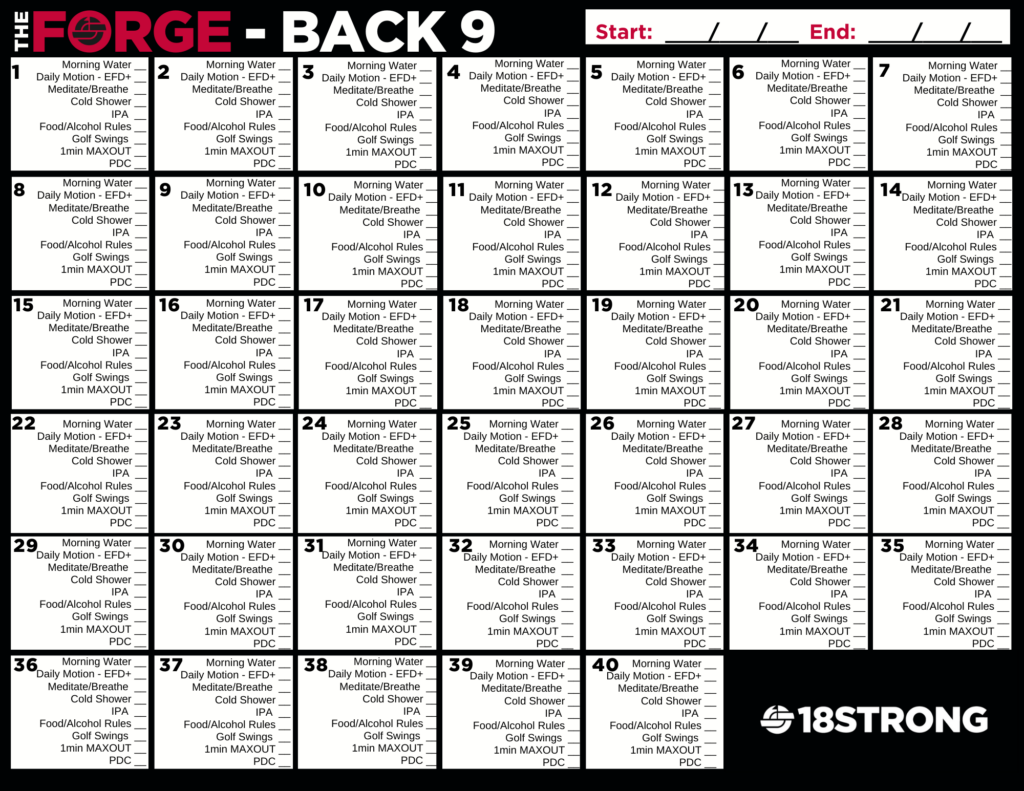 DAILY CHECKLIST:
The checklist is a simple way to quickly glance at the daily tasks to keep them front of mind. We suggest you print out several copies of this and place them where you will see them frequently throughout the day and before you go to bed. (I highly recommend laying one on your nightstand to look at before going to bed).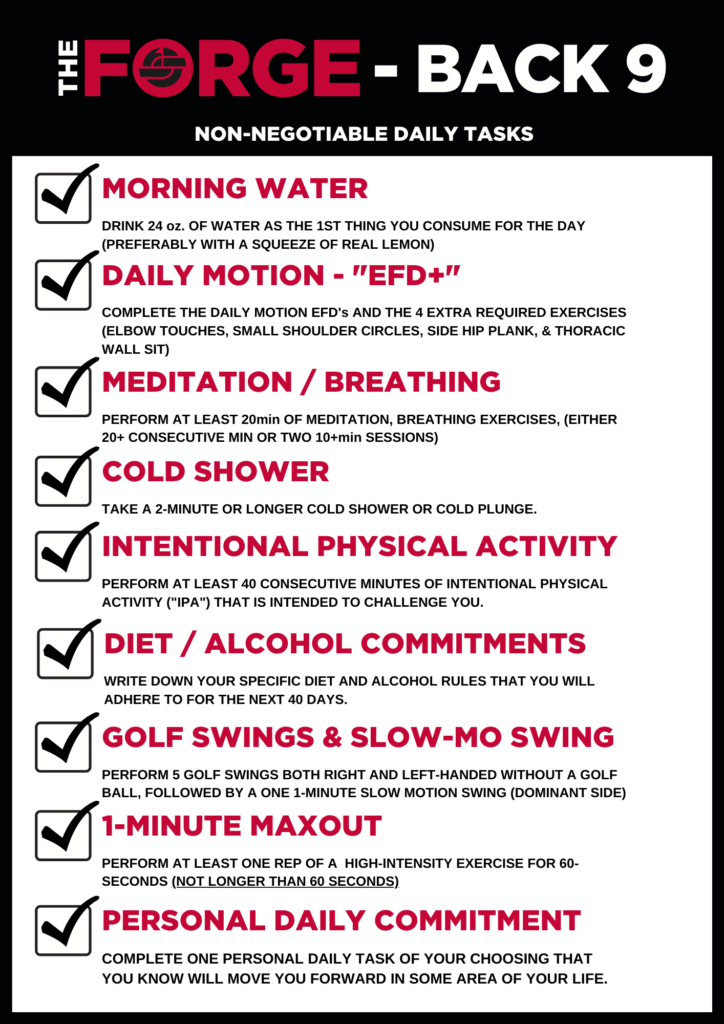 MORE RESOURCES TO COME . . .
We will be building out an FAQ section and some helpful resources in the future.
If you need any assistance in any of the categories (eg. meditation, nutrition, workout plans, etc) don't hesitate to reach out in the group so we, or other members can offer some suggestions.