This week Tony and I decided to take our normal shouts from the crowd episode and do it live via Facebook talking on the current status of people in the fitness industry during the quarantine, what people are doing and what suggestions we have for routines and taking advantage of the social distancing.
We answered questions on how to know what supplements to use, the best equipment for your home workouts, Tony gives great advice on how to change up exercises at home, what nutrition tips while stuck at home and the best way to count calories while at home.
It was great getting your questions live and look forward to doing more of these in the future as we are all stuck at home and looking to stay proactive.
Listen to the podcast here:
Or you can watch the full video on FB just click the image below.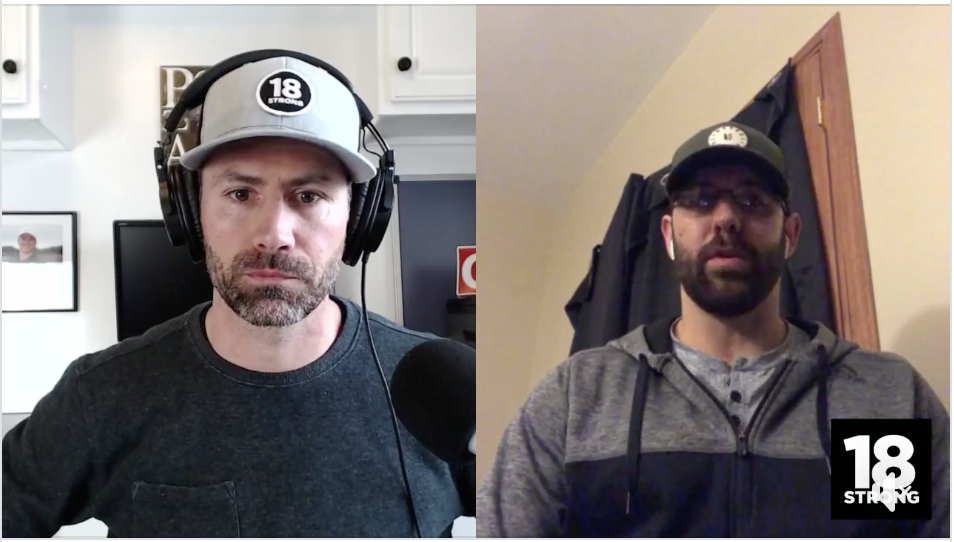 Highlights from this Episode
How we are engaging with our clients remotely and some of the bright sides of social distancing and quarantine that we have found like Tony's return to calisthenics and my family time.
Shouts from the Crowd Questions:
"How do I know what supplements I should be using or if I should be using supplements?" – Ryan
"What would you recommend as the best equipment for somebody to get for a home workout right now?"
"I don't have an incline bench, I'm improvising with a fit ball. Any other suggestions on that type of exercise?" – Dave
"What's the best way to figure out what your calorie intake should be?"- Chris
"What are some other ways you can adjust body weight exercises at home?" – Tim
"Any thoughts on how rowing plays into your fitness program?" – Jim
"Any nutrition tips for us now that we are staying home and allowed to graze freely?" – Mike
Mentioned in the show:
Find images of our Home Setups in our Facebook Group, The 18STRONG Movement
Jake's 2-minute Pull-Up
Episode Sponsor
LINKSOUL: For your 20% discount on LINKSOUL gear, go to 18strong.com/linksoul or click the logo below.