18STRONG is the name of our company, but it's really the community of driven golfers who get fulfillment from playing golf, working out, living an active life and have the will to reach their potential…  
….without losing sight that we're supposed to enjoy our lives.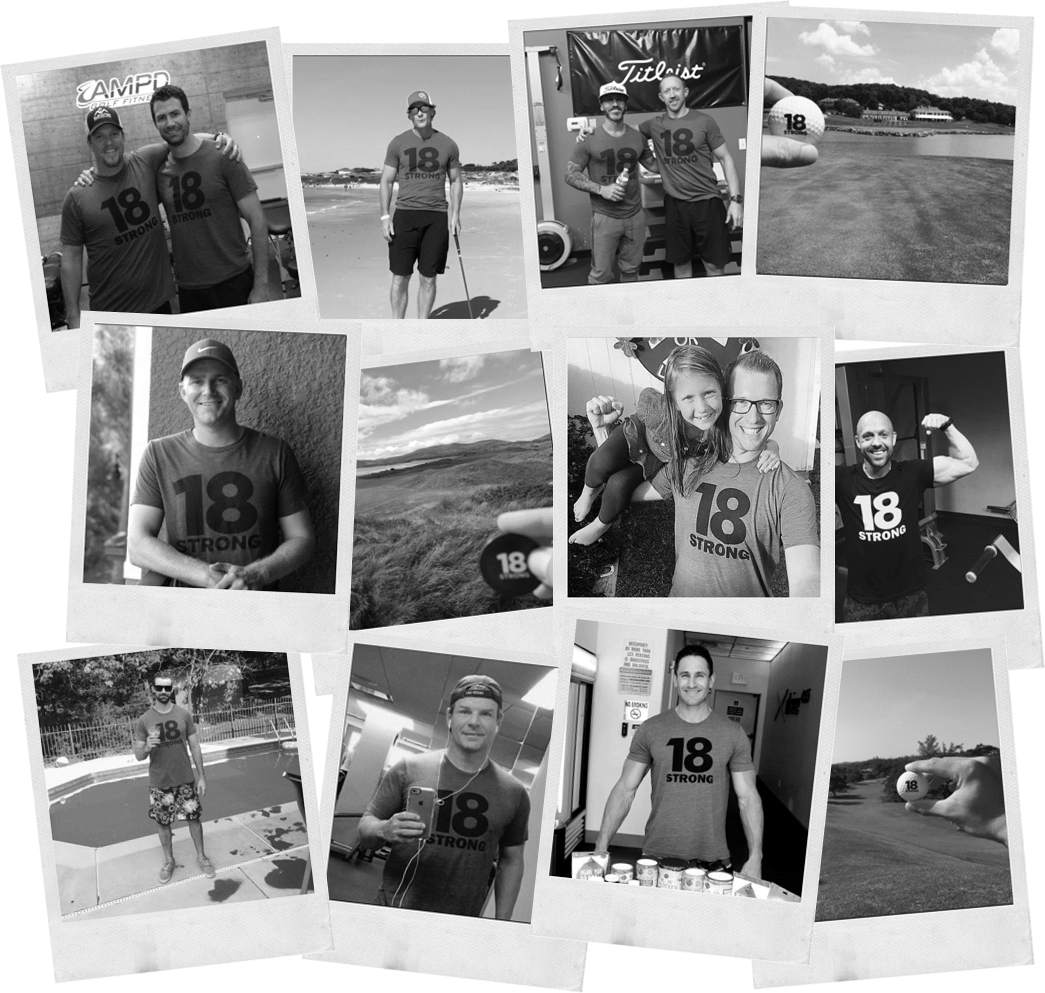 Mike was living a dull, ordinary life boxed in on all sides by his career, family obligations and just going through the day-to-day motions.
The kind of life where he very often didn't remember his commute to and from work because it had become so routine.
One morning, he was getting ready for work, stepped out of the shower and caught a glimpse of himself in the mirror…he did not like what he saw.
He was reluctant to get into shape because he had tried before and failed, thought he was too far gone, the road would be too long and difficult, and for a guy his age, he wasn't doing too bad.
He continued to get dressed and only when he struggled to button his slacks and buckled his belt on the last notch did he decide something had to change.
He couldn't keep going down this road or he was either going to become the "fat dad", die of a heart attack or boredom with his life.
Like everyone these days, he began searching the Internet for information on weight loss.
Eventually, he stumbled across an 8-week training program.
He was hesitant to pull the trigger because he'd already spent hundreds of dollars on gym memberships, other mainstream exercise programs, diet books and even some gadgets.
This time was going to be different, so he pulled out his credit card and forked over $150.
After the dopamine release from purchasing his "new body", he was totally pumped and could already envision the thin-waisted, ripped version of himself beating the pants off his buddies on the course.
He came out of the gate hot and religiously followed the program for the first three weeks like he was in the military.
He wanted to double-down on his results and get to his goal faster, so he strayed from the program and completely changed his schedule and his diet.
Normally a night owl, he began getting up at 6am every morning to work out and avoided every morsel of unhealthy food and drink like it was poison.
Of course, he lost weight, was moving better, playing better, his pants were looser, and he was starting to see some muscle definition.
Then Mike hit the "willpower wall".
He had completely turned his life upside down, was starving himself and denied himself all of the food and drinks that he always enjoyed and looked forward to.
Sure, he was seeing physical results, but that was as far as his willpower could take him.
He'd been down this road before.
He'd started and stopped programs a hundred times in the past and nothing had ever stuck.
You name it, he tried it.
Doubt started to, once again, set in as he feared that the program would turn into another in a long line of failed fitness "experiments" and he'd never be the the guy he wanted to be – the guy that can wear whatever he wants who turns heads when he walks into a room…
…the guy everyone looks up to and asks, "What are you doing to stay in such great shape?"
For an entire week, Mike skipped his workouts, sapped his confidence and binge ate because he was about to throw in the towel.
One Sunday night, Mike was lying on the couch eating pizza, feeling guilty, bloated, defeated and ashamed, and finally said to himself, "F this!"
He pulled himself out of the mental abyss he created and made a promise to man up and become the person he knows he can be.
He threw away the rest of the pizza and declared that tomorrow would be the first day of his new life.
Just by making that promise to himself, Mike regained the self-esteem and confidence to realize that he has the stuff to get into the best shape of his life.
It wasn't an easy road, but he committed to his program, and more importantly himself, and finally changed his mindset.
He realized that diets don't work because they're not sustainable.
He admitted to himself that there are no shortcuts – if it were easy, everybody would have a 6-pack and shoot 72.
That whatever strategy gets him to the promised land is the only thing that is going to keep him there…period.
Perhaps most importantly of all, to stop beating himself up every time he misses a workout or has a piece of cake.
He understood that it's okay to have a few beers, a piece of pizza or cake, as long as 80% of the time you're sticking with the program.
For the next 8 weeks, Mike got knocked down a few times because of travel, parties, work and all the things life throws at you, but he kept getting back up.
After eight weeks, he didn't have a 6-pack, but he didn't care. He's won back his confidence, he filled out his clothes with a smaller waist and more athletic build, had more energy, was feeling and moving better than he had in years, and was playing his best golf.
He never stopped enjoying a few cold beers, an occasional indulgence meal and although happily married, the ladies started to notice him again, which may be the biggest ego boost of all.
So, is Mike a real person?
Although he is not a real "flesh and blood" person — his traits are absolutely real and based on real people.
If you want to take Mike's journey and get into shape, lose weight, live a healthier life and play better golf, we can help with that.
Maybe you just need a nudge in the right direction. We're great at nudging.
You may be here out of need (great; maybe we've got something that's perfect for you).
If we can't help, we'll tell you and point you in the best direction. We don't have all the answers. And what we have here definitely isn't for everyone, or even for most.
What we have here is for the few, who choose to enroll in the journey, enjoy the ride and do the hard work.
18STRONG started in 2014 and we've been on an epic ride ever since.
Jeff and Ryan are cousins, friends who grew up together, got in a decent amount of trouble together, played a lot of golf together and are now co-founders of 18STRONG.
For years leading up to 2015, Jeff ran his golf fitness training gym, Ryan ran his online marketing agency, and they often talked shop over a shared love of things that are awesome – golf being one of those things.
After years of staring opportunity in the face and not recognizing it, Jeff had a moment of clarity and made a fateful telephone call to Ryan.
The transcripts of the exact conversation were lost years ago, but this is close:
Jeff: Hey Ryno, we are so stupid…
Ryan: Sure, but can you be more specific?…
Jeff: You know how you're good at online stuff and I'm good at training golfers?…
Ryan: I'd like to think to so…
Jeff: Why don't we do something together and use the Internet to help golfers get into better shape and play better golf?…
Ryan: Holy cow!  You're right!  If we get the word out there, we can help a ton of people…
Jeff: See. We are so dumb.  What were we thinking?
Ryan: Yup, we are very dumb…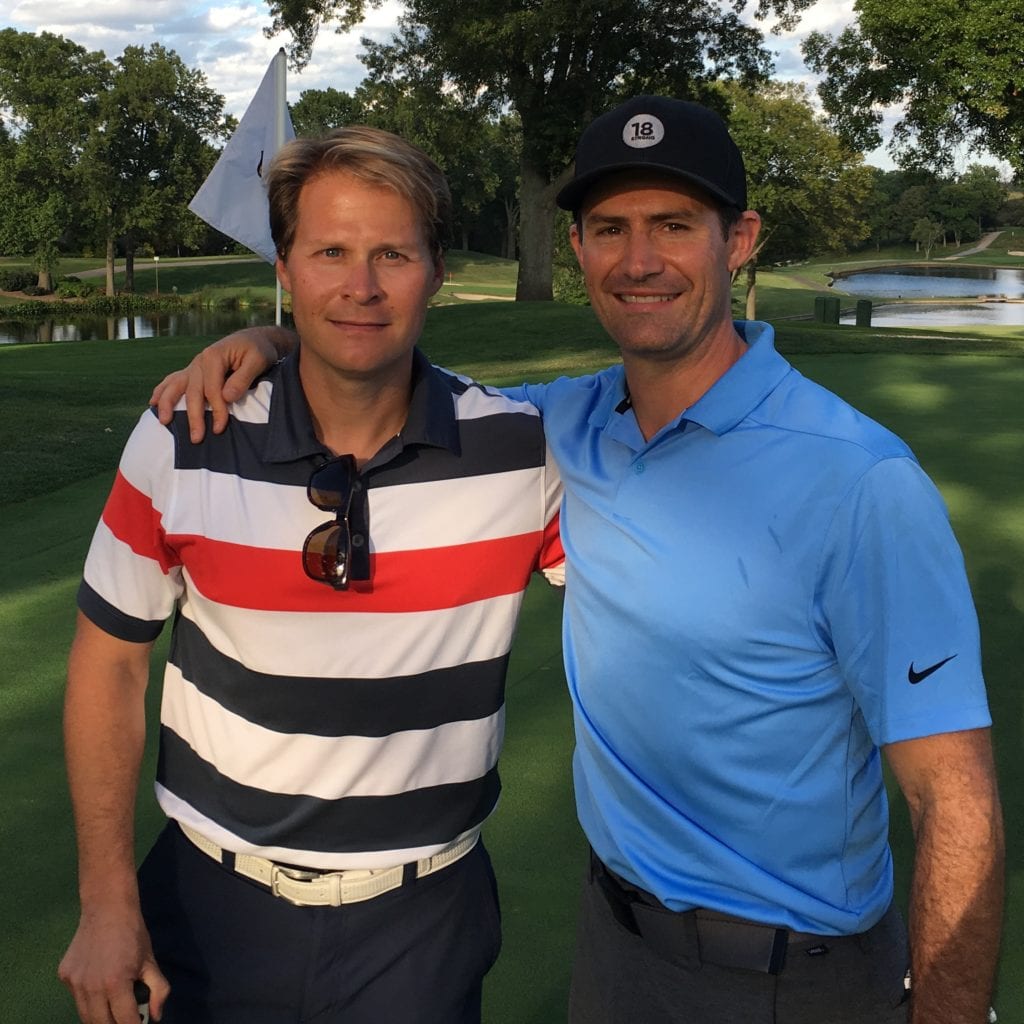 Co-Founders of 18STRONG, cousins, accomplices and lifelong friends (L to R) – Ryan McMullen and Jeff Pelizzaro at Old Warson C.C. in St. Louis, MO
For a guy who has devoted his professional life and a lot of his social life to golf, it's seems odd that growing up nobody in our giant family really played golf – we sure played everything else!
Until I started working with golfers in the gym over a decade ago, I just used golf as an excuse to have a few laughs, knock back some suds and enjoy the comraderie of family and friends (that part hasn't really changed, I just keep score now).  I certainly never treated it like a competitive sport or thought about working to get better.
Oh, how the tide has shifted.
Once I got to know and play with some of my clients and experienced how much fun it is to be competitive, feel myself improve and achieve goals all under the umbrella of a great time, I was totally hooked.
I lasted about one second around golfers before I became one.
I'm pretty darn lucky these days – I get to train golfers, get to talk about golf with some really cool people, get to play some great courses, and get to collaborate with some of the best coaches and trainers in the world…
…And now, we have this great online platform to help train even more golfers!
So, that's a little about me, but if you just want the nuts and bolts of why you may want to trust me to help you, here's the nerdy, resume stuff:
Jeff Pelizzaro, MPT
Licensed Physical Therapist
Golf Digest 50 Best Fitness Professionals
Titleist Performance Institute – Level II Fitness Instructor
Plane Truth Golf – Level 1 Certified Instructor
Best-Selling Author of The Golfer's Guide to a Bogey Proof Workout
Continuing education certifications including FRC, SFMA, FMS, DNS Golf
Featured on ESPN Radio, The Missouri Golf Post, Fit To The Tee, MyGolfInstructor.com, Various Podcasts, Golf Strategy School and more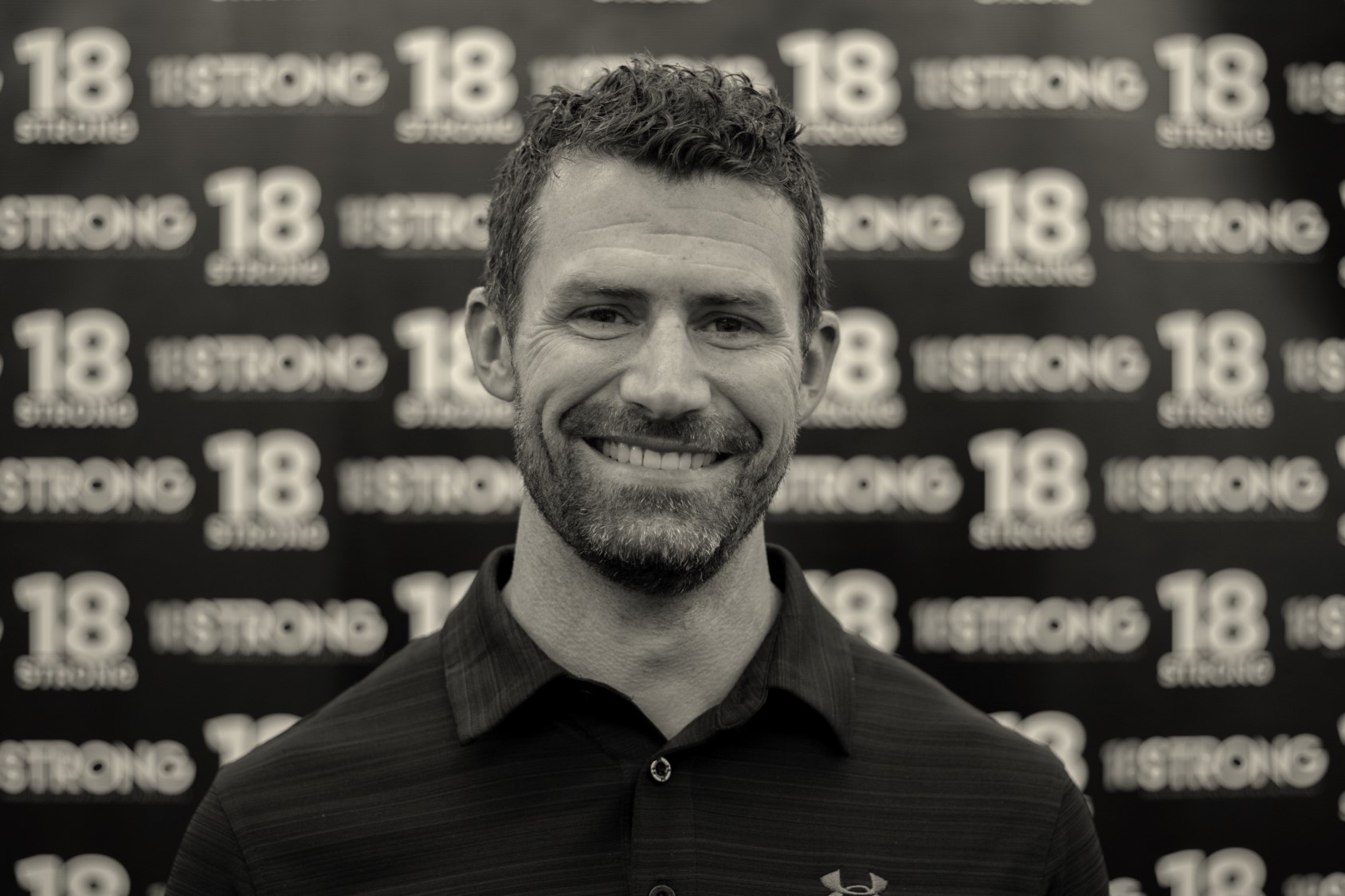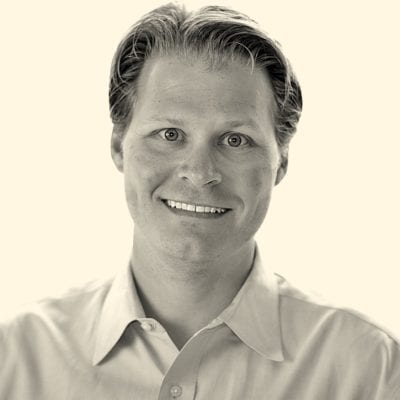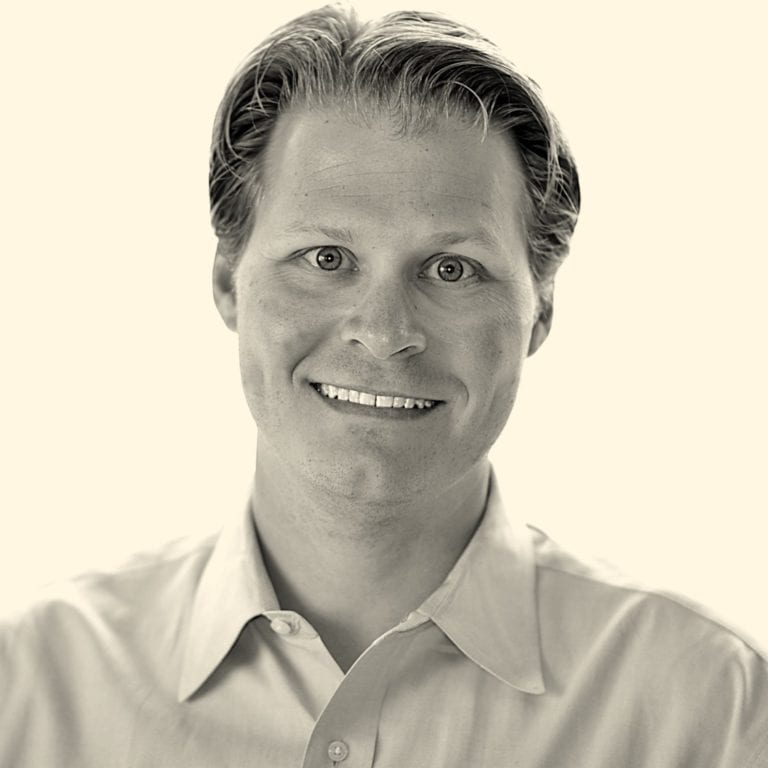 I'm Ryan McMullen (the guy behind the guy)
Jeff is, of course, the pretty face you regularly see in front of the camera, but somebody has to do the dirty work behind the scenes.  
I've always loved sports.  We played everything growing up, both competitively and in the backyard, and I've been lucky enough to continue to play a lot of golf and soccer as the years keep rolling.
I really didn't start playing golf until I was well into my 30s, but now that they sucked me in, I'm totally hooked.
The best part about starting a golf company is that Jeff and I conduct a lot of "research" on the course.
There's not much I love more than getting emails and talking to our 18STRONG golfers about how we've helped them get better in some way. 
We used to talk about how, "If we could help just one golfer…"  Well, that's stupid.  With technology and Jeff's knowledge, we can help tens of thousands of golfers.  And that's just what we plan on doing.
Since Jeff got to puff up his chest with his experience, here are a few things I've done that are sure to impress you::
Revolutions Started
Assassinations Plotted
Governments Run
Uprisings Quelled
Crime Organized
Tigers Tamed
Bars Emptied
Vacancies Filled
Casual Heroics
Consulting
5 FUN FACTS YOU DIDN'T KNOW ABOUT US...
Jeff's Mom and Ryan's Mom are sisters from a family with 11 siblings.  They now have 40+ cousins…just on that side.
As kids, Ryan and Jeff watched The Beverly Hillbillies, which led to Jeff's lifelong nickname "Bodine"…as in Jethro "Bodine" Clampett.
Ryan has hit more clubhouses with errant shots than he has aces.
Clubhouses – 2
Holes-In-One – 0
Jeff played college soccer at Rockhurst University in Kansas City, MO, but will be the first to tell you he's in better shape now.
Both Jeff and Ryan were born and raised in St. Louis, MO…and other than college, have lived there for their entire lives.  
OUR GOLFERS SAY THE NICEST THINGS...
Hey Jeff, I just wanted to share that I achieved 2 lifelong goals yesterday…I shot under par for the first time, and also shot sub 70 for the first time too!!
I've been following the Golf Body Blueprint for 3 weeks so far, and I have noticed significant changes to my speed and stability. My club head speed has increased by 5-10mph, and I feel much stronger in my legs, core & hips.
It has made a huge difference in my game and fitness level. Dropped to 15% Body Fat from 18.5%.
Average drive jumped to 253 from 227 with longest drive of 287 from prev high of 258: sleeping better and just plain feel better overall."
I have a long way to go, but for the first time in a decade I know I'm going to get there. The lower back pain that hampered my golf game for as long as I can remember, is gone. It's different than all the other plans I've tried. It's different because it works! 
Forget golf, forget working out…my daily life is better because I'm pain free due to my increased mobility."
In-Depth Training Programs.
Access amazing, in-depth golf fitness training programs including video instruction, workout calendars, tracking sheets and more… 
Learn from the best trainers and coaches in the world.  Our experts are on hand to help you every step of the way.  
Active, Supportive Community.
Feedback and support from fellow golfers and experts who will keep you on track.  If you get stuck or have questions, just let us know and we'll keep you moving forward.