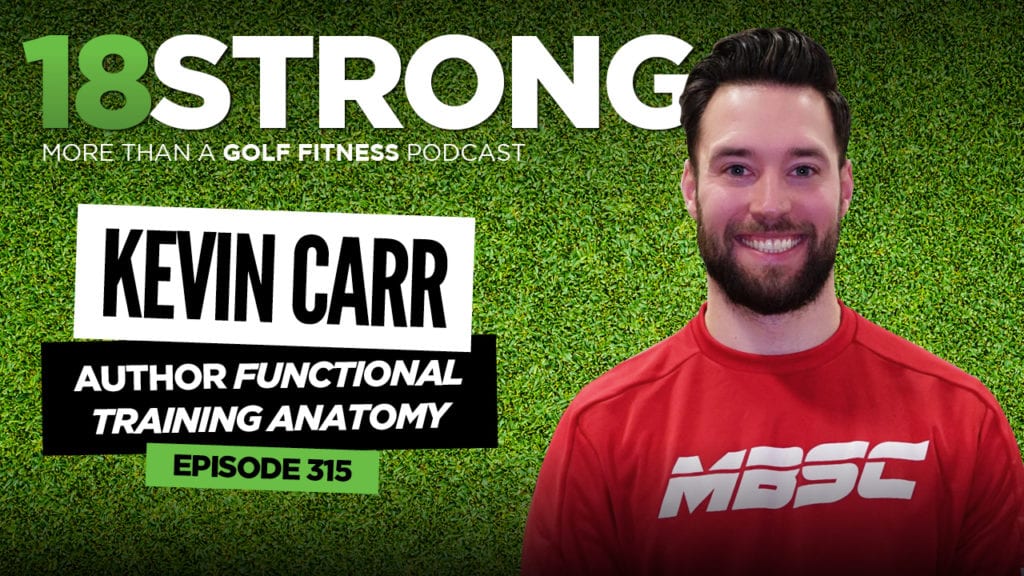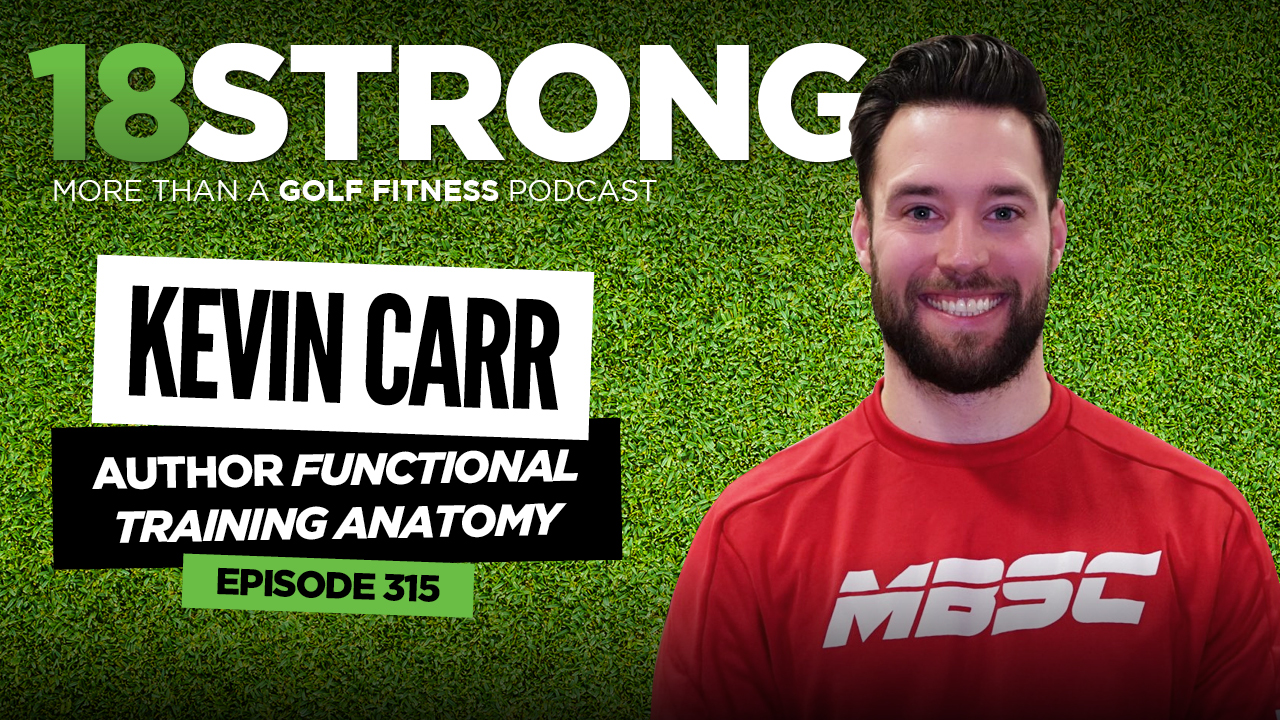 Kevin Carr is a strength coach and manager at Mike Boyle Strength and Conditioning which is one of the top training facilities for both athletes and every day joes up in Boston.
Kevin is also the co-founder of Movement as Medicine, the creator of the Functional Strength Coach Certification, and ultimately, what we are really talking about today is that he just authored a book called Functional Training Anatomy.
This text is basically a handbook with incredible illustrations on how you should train no matter your level. In the book, Kevin lays out a super practical plan that every golfer could use to become a stronger, better moving athlete. In this episode, we dive deeper into what functional training really is why it's so important that you as golfer take some ownership of understanding how to train on your own.
Kevin Carr's Background:
Kevin Carr is a strength and conditioning coach and manager at Mike Boyle Strength and Conditioning (MBSC) as well as a massage therapist and cofounder of Movement as Medicine, a massage and movement therapy clinic in Woburn, Massachusetts.
He is the creator of the Certified Functional Strength Coach certification.
Kevin has a bachelor's degree in kinesiology from the University of Massachusetts at Amherst and a license in massage therapy from Cortiva Institute in Watertown, Maryland.
Carr amassed a wealth of experience in the field of sport performance and personal training while working at MBSC and has traveled all over the world to educate thousands of coaches and therapists about the MBSC coaching system.
He has coached everyone from U.S. Olympians looking for a competitive edge to the average person looking to shed some pounds, move better, and improve their health.
Highlights From This Episode:
Where he started and how he got connected with Mike Boyle at MBSC through an internship very early in his career and what he learned from Mike and others at MBSC.
How he defines Functional Training as the most useful approach to getting the average athlete to perform better and attain their specific goals as well as dispelling the confusion around how it gets misrepresented.
We dive into his book Functional Training Anatomy and he expands on some key topics like how they pick the exercises they do, his philosophy on movement prep and how they structure workouts, mobility vs. flexibility, and more.
The importance of medicine ball work and plyometrics for the everyday golfer and how to implement it into your workout. We also talk on the concept of how you can't get faster when you're tired and the importance of putting these exercises in the beginning of your workout.
His research and anecdotal experiences from working at MBSC that has changed his perspectives on different training philosophies and how everyone goes through the same introductory program but each approach is tailored to the athlete and their body composition goals.
He also talks about the biggest lessons that he would pass on to future coaches and what are the habits of a high-functioning coach and athlete.
Parting Questions:
Favorite Golf Movie? Happy Gilmore
Inspirational Book? Meditation by Marcus Aurelius
What is your walk-up song to the first teebox?  Thunderstruck by AC/DC
If you could play anywhere in the world with any 3 people, who would it be and where would you play?  My grandparents from both sides at Butternut Country Club
Bucket-list coarse? Augusta
Greatest piece of advice? Don't take yourself too seriously
Where to Find Kevin Carr and his book:
Instagram

Functional Training Anatomy Book
Episode Sponsors: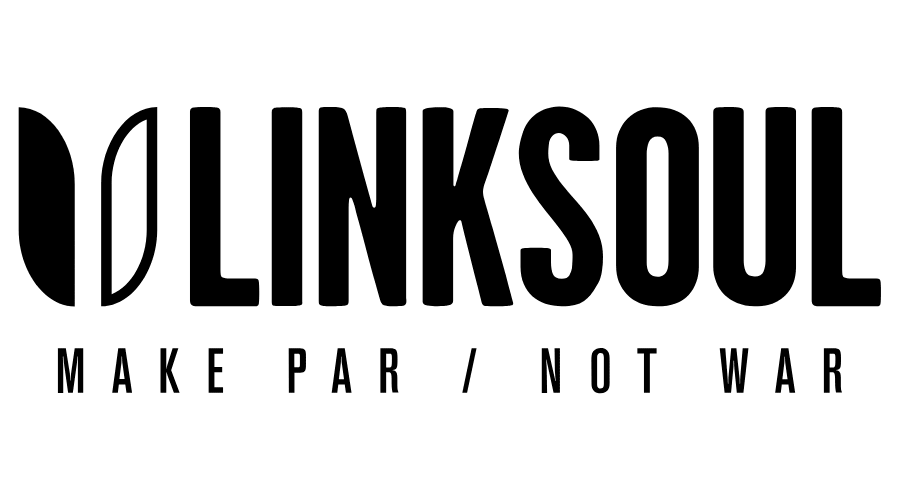 LINKSOUL: For your 20% discount on LINKSOUL gear, go to 18strong.com/linksoul or click the logo below.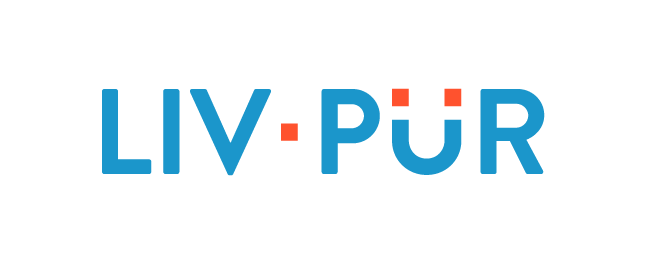 LivPur: For your 15% discount on LivPur products, go to LivPur.com (or click the logo above) and use the code "18STRONG".
---
To continue the conversation and ask any questions you may have, head over to the 18STRONG Movement group on Facebook.