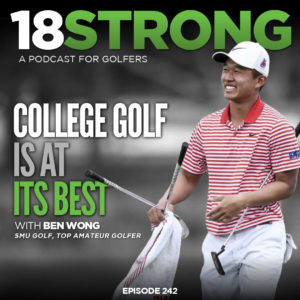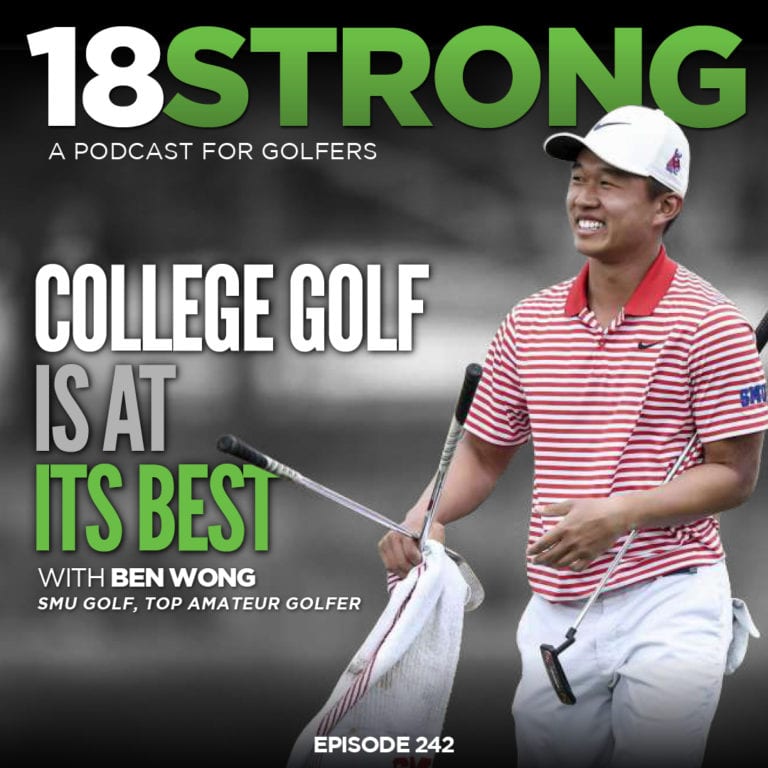 Today I am especially excited to have on our special guest, SMU Golfer and one of the top amateur golfers in the game, Ben Wong.
We had the chance to see a lot of Ben at the NCAA finals this past year (where he played his final match against Oklahoma State's Victor Hovland who recently turned professional) and today we get to sit down with Ben to hear his journey from Hong Kong, to Beijing, and eventually landing in Texas.
Since the age of six, Ben began traveling to the United States playing junior golf before moving to Texas to pursue a high-level junior, amateur, and eventually collegiate golf career.   He now finds himself in the line-up of one of the premier collegiate programs at SMU and like many of the top collegiate players of today, has his sights set on an eventual run for the PGA Tour.
In today's interview, Ben walks us through his game, what the NCAA finals were like from his perspective, and what he predicts for not only his future, but the game of golf in general.
Access "How To Add 17 Yards In 17 Minutes" now
Discover The Fastest Way To Increase Your Club Head Speed…
Ben Wong's Background
Wong was born in Hong Kong, moved to Beijing when he was 6, and now plays for the Southern Methodist University Mustangs.
Some Career Highlights include:
1st in The Junior PLAYERS Championship presented by TaylorMade-Adidas Golf (2017), 1st in the U.S. Amateur Four-Ball (w/ partner), and was named to the Arnold Palmer Cup International Rankings and appeared as No. 19 (Fall) and No. 25 (Penultimate).
His Coach, Jason Enloe has this to say about him: "This kid is an amazing human being and the SMU family is so lucky that he chose our great university to be his school. . . Ben will make an immediate impact on our team as his skill set is ready for the next step in his golf career."
Highlights from this Episode
His background growing up in China and learning golf from a very young age, to flying over to the states occasionally to play junior golf, to moving to Texas and really kick-starting his golf career through playing with the best juniors in the world. He also goes into what the process of deciding on going to SMU for his collegiate golf career.
His transition into college golf: the differences he saw between junior golf and collegiate, as well as training and playing with a team. He also talks about what his hectic in-season schedule looks like balancing workouts, work, studies, and managing a social life.
What his last season looked like from the tragedy of Coach Enloe's wife passing to the bonding and determination that pushed them to work twice as hard. He talks post-season, how they were DQ'd through a mistake but came back strong to show their mettle and the remainder of the NCAA finals.
What changes he is seeing in the game of golf and what he predicts will be the next big shift in the coming years.
Ben shares his future plans regarding his intentions to continue with college golf and prepare for the PGA Tour.
Parting Questions
Caddy Shack or Happy Gilmore?  Happy Gilmore
What's you're walk up song to the first tee at Sweetens Cove?  Wake Me Up by Avici
If you could pick one person to play 18 holes of golf with, who would it be and where would you play?
Tiger Woods at Augusta
Any last piece of advice for the 18Strong audience?   People get too caught up in the end goal, you have to focus on learning and enjoy yourself.
Where to find Ben:
Episode Sponsor:
SuperSpeed Golf  use the code "18STRONG"
To continue the conversation and ask any questions you may have, head over the 18STRONG Facebook page.
Access "How To Add 17 Yards In 17 Minutes" now
Discover The Fastest Way To Increase Your Club Head Speed…