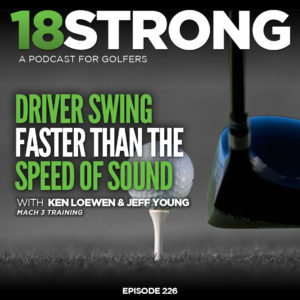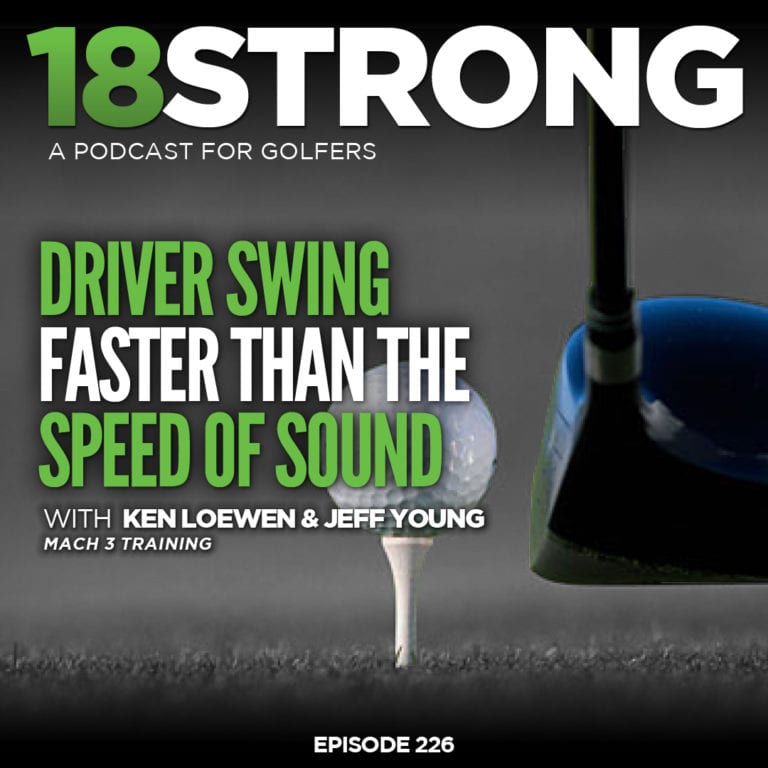 Today I am especially excited to bring on our special guests, Jeff Young and Ken Loewen from Mach 3 Speed Training.
"Am I ever going to be able to swing the club faster?" I think it's a natural question that we all ask ourselves from time to time in the pursuit of peak golf fitness and performance, and especially in today's game of golf distance is king so club-head speed can make or break your rounds.
Our guests today, Jeff Young (Co-founder of the Mach 3 Training System) and Ken Loewen (Strength and Conditioning Specialist and Mach 3 Speed Training Coach) stand by the fact that through the Mach 3 Speed Training System, no matter your age, you can improve your speed to get faster off the tee. Today we talk not only about how the Mach 3 System began but how there is potential in every individual and aside from strength conditioning, speed improvement comes from the mental game we find ourselves in every time we step on the green.
The Mach 3's Background
Mach 3 is a year-round golf speed training protocol with the exclusive goal being clubhead speed. Since its inception in September of 2017, Mach 3 participants have gained an average of 11.5 mph in driver clubhead speed.
The program is divided into Off-Season, Pre-Season, and In-Season segments. Mach 3 training is dynamic and lively. The routines are designed to be non-exhausting. Mach 3 training will ramp you up, not beat you down.
Golf coaches, instructors, and personal trainers who have attended full Mach 3 workshops have been trained to:

Conduct group classes featuring Circuit Training and Round Robin techniques
Think creatively and out-of-the-box in designing golf fitness programs
Create a community of golfers whose goal is to stay healthy, fit, and to play better golf.

The Mach 3 program:

Promotes equal participation of men, women, and children
Is applicable to golfers of all ages and playing abilities
Is based on workouts that are fun, non-exhausting, safe, and athletic in nature
Can be held indoors or outdoors
Gives golfers a way to train for golf using natural golf body motions without "bulking up" 
Highlights from this Episode
They introduce us to what the Mach 3 Speed Training System, the background on how it got started, and what they do in this system that hones in on the intention, which allows people to create the speed in the swing.
What it looks like when you go see them and the importance and use of each of the tools they utilize to help golfers align their swings, like the "essential kit" which includes the jet stick, speed bar, and the velociraptor and the black mamba rope tools.
What Rotex Motion is in terms of internal hip and shoulder rotation and mobility, and how they use it in conjunction with the Mach 3 system. They also touch on how intention plays a key role in improving speed, because most of what the Mach 3 speed training works on is your mental game rather than your raw strength.
They talk on how there is no need to succumb to losing clubhead speed with age and, if anything, they say they can improve your speed so you can continue to stand out.
What the Mach 3 certification process looks like through months of learning how to use the tools and a seminar they host for coaches and golf instructors to learn the tools.
Parting Questions
Caddy Shack or Happy Gilmore? 
Ken: Caddy Shack
Jeff: Caddy Shack
 What would be your walk-up song to the 16th hole at the Waste Management Open?
Ken: "Eye of the Tiger" by Survivor
Jeff: "Gravity" by John Mayer
 18 Holes anywhere in the world with anyone, past or present: Where would it be and whom would you play? 
Ken: Darius Rucker at Pebble Beach
Jeff: Abraham Lincoln at Whitespring Pines Golf Club
Any Last Piece of Advice?
Ken: Mach 3 is not everything, its just another tool for the toolbox but it's an important one to have.
Jeff: Speed out front!
Learn more about Ken & Jeff and their work at the Mach 3 at:
To continue the conversation and ask any questions you may have, head over the 18STRONG Facebook page.