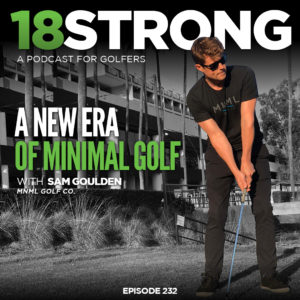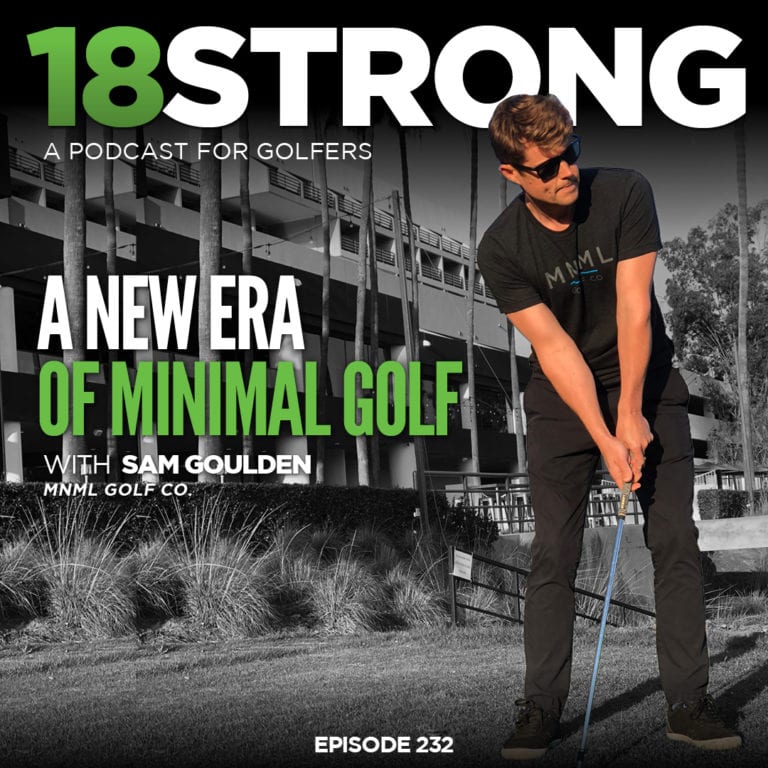 This week we are talking with Sam Goulden from Sam Goulden Golf, but more recently he started a new company called MNML golf which we are going to dig into and will highlight the new bag and technology he has come up with and the Kickstarter campaign he has going for it. Sam has been all over the nation traveling, teaching golf, playing golf, and connects with so many different people on spreading the MNML golf lifestyle; the simplicity of the game itself and getting people to understand how they can play better through minimal tweaks and embracing the simplicity.
Sam Goulden's Background
Sam Goulden is from Washington, Missouri, is the founder of MNML GOLF CO, hosts an online instruction platform and teaches private lessons at his studio in Manhattan Beach CA.
He has been teaching for 20 years and is the author of The Square to Square Swing and other instructional books. His students range from billionaire CEOs who want to take their games to the next level to 3-year-olds who just want to have fun.
His website samgouldengolf.com has over 9,000 members who have access to multiple video courses and pdf along with swing reviews and personalized coaching programs. Sam credits the development of his methodology to thousands of books, videos, and personal lessons over the past 20 years.
His primary goal with all endeavors is to deconstruct the goal, simplify the process, and run a focused program that achieves the greatest return in the shortest time with the least amount of effort.
With MNML GOLF CO, Sam seeks to fuse the traditional game with modern technology and simplified design. MNML golfers have no dress code and often trade the collared shirt and spikes for tee shirts and tennis shoes.
Highlights from this Episode
What he has been up to since the last time we talked with him, from moving out of Puerto Rico due to Hurricane Maria in 2017 and settling in Manhattan Beach, CA, to starting MNMLGolf, Sam hits on all this as well as the new era of minimalistic golf that's changing the game.
Where golf is going in the future as far as technology, indoor golf on the rise, and shifting from the elitist, country club sport of yesterday to the everyman's "play 9 holes on a Sunday" sport of today.
The new MNML Golf bag that he is currently kickstarting, and the features that make it stand apart from the rest (from it's phone slip pocket for easy swing video recording, to its solar panel powered battery to charge your phone/accessories,) and what niche in the market it fits perfectly.
How through his coaching he took a CEO father of three kids under six from 36 to single digit in 9 months, and the top one or two things he focused on with his training program.
How learning golf in a simplified way has led to faster improvement for everyone, and his new book "Ladies Let's Play" which tackles the issue of how daunting getting started into golf can be, especially for women, and getting past the initial discomfort from pressure to perform to enjoy the game and all it has to offer.
Parting Questions
Caddy Shack or Happy Gilmore?  Caddy Shack
What's you're walk-up song?  Can't Take My Eyes Off Of You by Frankie Valley
If you could pick one person to play 18 holes of golf with, who would it be and where would you play?
Just my girlfriend at the par 3 course by our house
Any last piece of advice for the 18Strong audience? Keep it simple! Be a #MNMLGolfer
Find more information on Sam Goulden and MNML GOLF CO at:
Link to the Kickstarter Campaign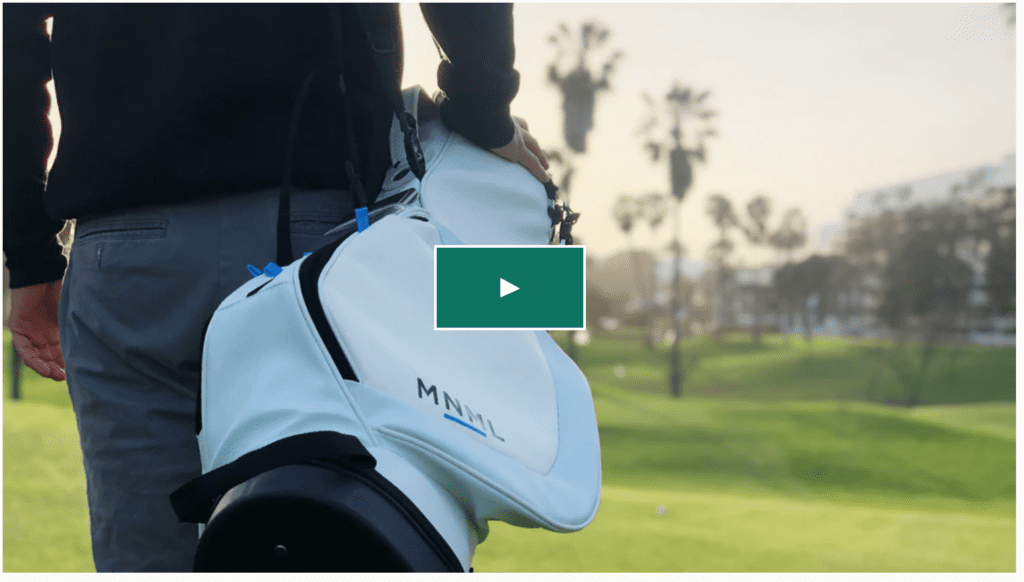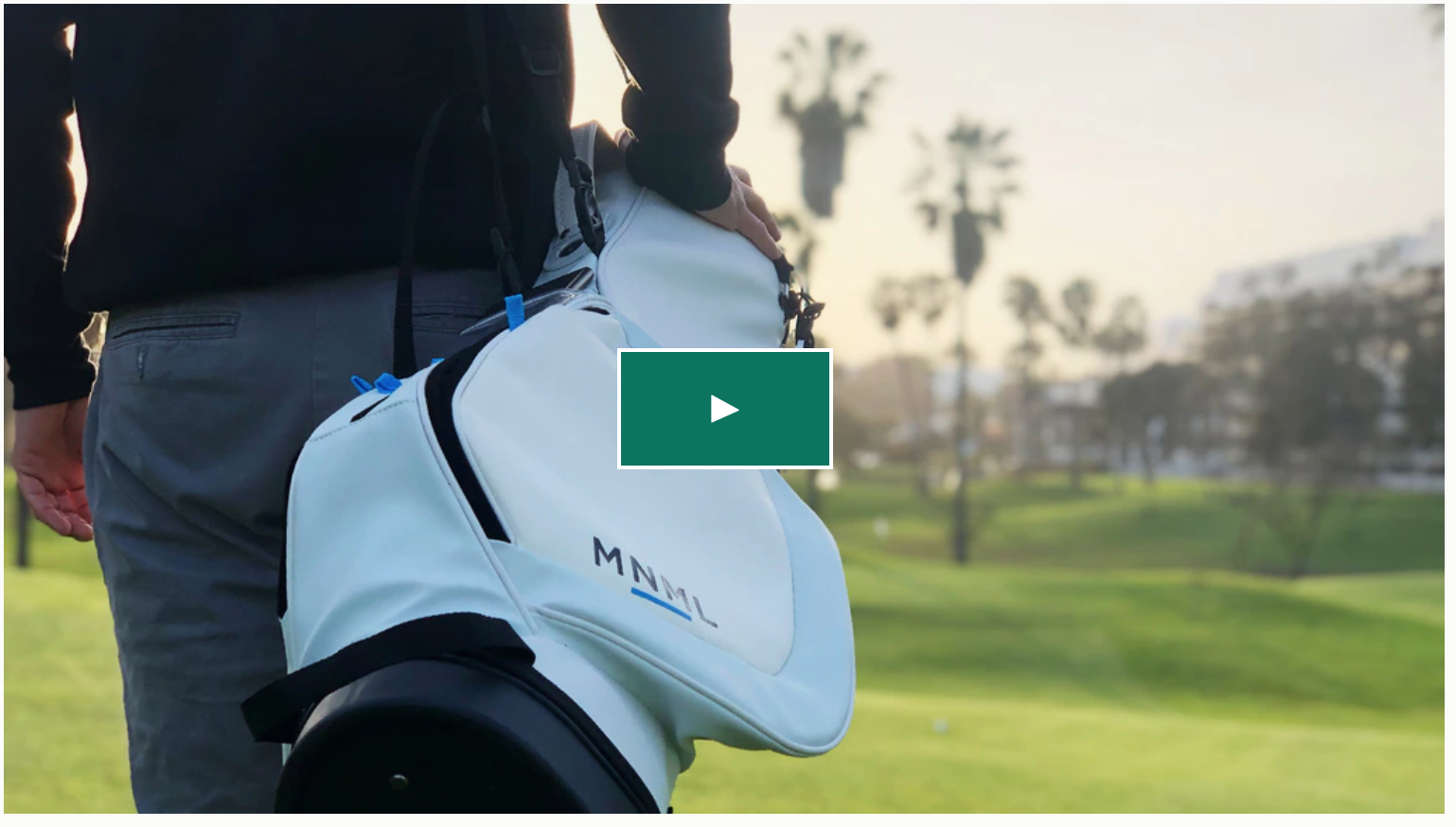 Sam Goulden Golf Website
Instagram
To continue the conversation and ask any questions you may have, head over the 18STRONG Facebook page.