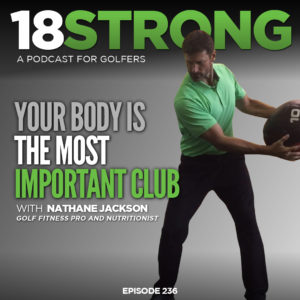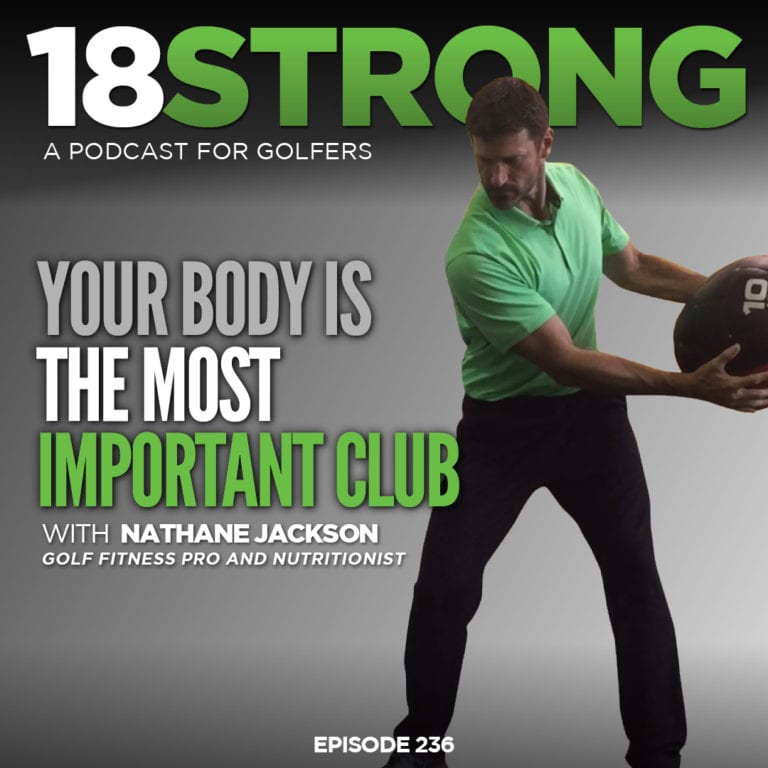 Today I am especially excited to have on our special guest, Nathane Jackson
As a listener of the 18Strong Podcast, you know that we preach that your body is the most important piece of golf equipment that you own.  Taking care of it, optimizing it, doing everything you can to improve the way your body moves, the way your brain functions, and the way you do everything on the course is the best way for you to improve your golf game long-term.
Today that is going to be a reoccurring theme as we talk with Nathane Jackson, a fellow golf fitness professional based out of Niagara Falls. We talk about how his background in nutrition, competition, and athletics and how he wants to help golfers improve their most important club: the body.
Nathane Jackson's Background
Nathane is a Titleist Performance Institute (TPI) certified golf fitness specialist, an NSCA Certified Strength and Conditioning Coach (CSCS), Nutritionist and creator of the forthcoming Lazareth Golf online training program. He transforms golfers by improving their most important club – THE BODY.
Nathane is dedicated in bringing greater awareness to the benefits strength training and mobility have on one's golf game. His specialized fitness, nutrition and recovery programs help golfers reduce the risk of injury, boost confidence and improve overall performance both on and off the golf course.
Nathane is a former University Basketball player and physique competitor. Once upon a time, he graced the cover of fitness magazines as well as over 60 Harlequin Romance novels. Now, when he's not working with clients, he can be found maneuvering his way around the hazards of his local golf course.
Additional certifications of his include: Precision Nutrition (Pn1), Holistic Nutrition (RHN), Functional Range Conditioning (FRC), Online Trainer Academy (OTA)
Highlights from this Episode
His background in fitness and nutrition, how he found himself falling back in love with golf and golf fitness, and how his training and coaching has evolved over the years.
With the internet and social media being a huge source of unfiltered fitness regimens, results, and workout plans, Nathane speaks on some of the issues and traps that we can all fall into with expectations whether you are a coach or golfer.
He explains how you as a golfer can manage and decide what would be best for your fitness and golf game.
How Nathane tailors his workouts to get the time to play and practice.
Keeping it simple principals that he works on with new clients from amateur to professionals to make sure they are utilizing their time most efficiently, from balance to power.
The difference between a nutritionist and a dietician, what his nutrition work looks like, and the importance of sleep before a match.
Overall, why you should start treating your body as being just as important a factor (actually even MORE important) in how you play the game as we tend to think our clubs are.
Parting Questions:
Caddy Shack or Happy Gilmore?  Caddy Shack
What's you're walk up song?  Final Countdown by Europe
If you could pick one person to play 18 holes of golf with, who would it be and where would you play?  George Knudson at Chambers Bay
What has you most excited about your career and what you are doing right now?  Working towards his Lazareth Golf Program and build a golf community at Niagara Falls.
Any last piece of advice for the 18Strong audience?  Your body is your most important club.
Connect with Nathane Jackson at:
Twitter
Email: [email protected]
To continue the conversation and ask any questions you may have, head over the 18STRONG Facebook page.