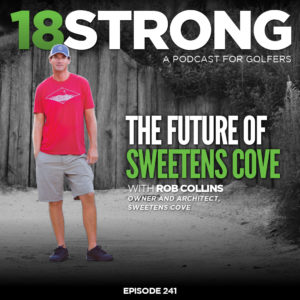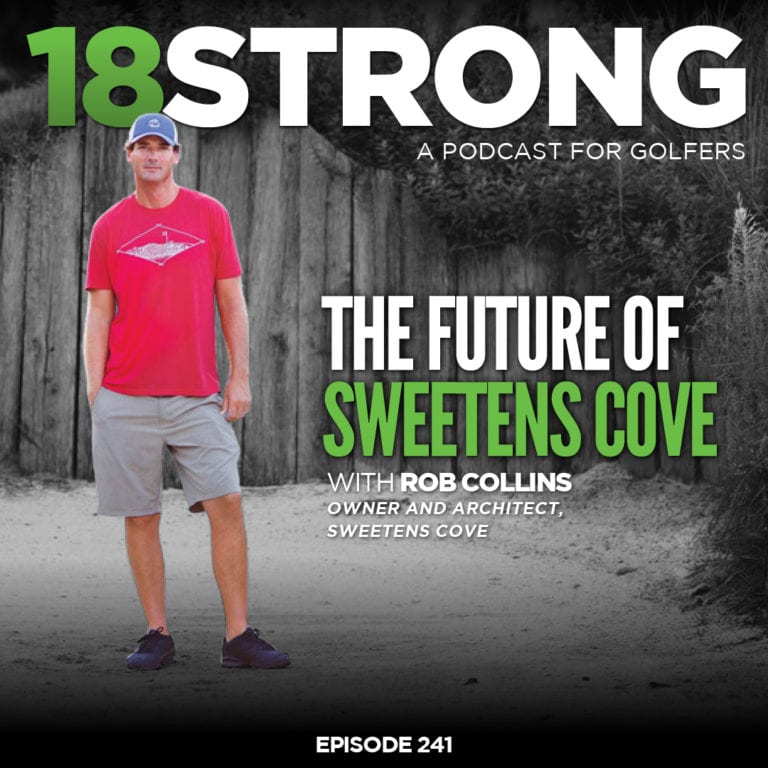 Rob Collins is the course designer, architect, and ultimately, the inspiration behind Sweetens Cove. If you haven't heard of Sweetens Cove yet, you're about to be introduced to the story of an incredible little 9-hole course near Chattanooga Tennessee (South Pittsburgh) that has taken the world of golf by storm.  But it wasn't always smooth sailing for what many may simply think was an "overnight success."
After years of struggling to keep the place open, Sweetens has quickly become one of the most talked about tracks in golf and is now considered one of the top-ranked courses in the United States (and remember, it's only 9 holes!).
Rob's shares the highs and lows of the journey, how the golf experience at Sweetens is different from any other course (so much so that it has developed a cult following) and what's next for "The Little Course That Could."
Access "How To Add 17 Yards In 17 Minutes" now
Discover The Fastest Way To Increase Your Club Head Speed…
Rob Collins and Sweetens Cove's Background
Rob Collins is the Principal Designer, was nominated as one of golf's 'Most Influential Architects' in the February 2016 issue of Golf, Inc.
He obtained a graduate degree in Landscape Architecture from Mississippi State University.
His graduate thesis addressed the environmental impact of golf course design and construction.
Over the years, he developed a love of site work and designing in the field, an approach to the process that is shared by Tad King.
Sweetens was featured a NY Times Article: "The Little Golf Course That Could" in 2017, which was a major catalyst in it's recent exposure.
Golfweek listed Sweetens Cove at No. 49 in its top 100 Modern Golf Courses, a ranking of American courses built since 1960. It is one of only two nine-hole courses included on the list, and it is ranked third among daily-fee public courses.  ahead of numerous sites that have hosted PGA Tour events and major championships, including Hazeltine and Valhalla.
The course itself presents an entirely unique golfing experience in the Southeastern region of the United States in that it was conceived, designed, and built as an inland links course.
Borrowing architectural inspiration from some of the game's greatest layouts, King-Collins crafted a course that is reminiscent of the original version of Augusta National according to renowned golf writer and historian, Anthony Pioppi.
Highlights from this Episode
His background in architecture, how from the beginning, after a trip to St. Andrews, he was focused on expanding his knowledge and skill specifically for golf course design and architecture, and how his journey has unfolded into where it is today into the background and inception of Sweetens Cove.
From the rocky start when and how they took over Sweetens and the first few seasons where the future looked bleak, to expansive growth in just a few years, how they knew this course was special, unique, and one-of-a-kind; how the hard times lent themselves to carving out the authenticity and genuine nature that the heart and soul of the course is defined by.
The plans to secure the future of Sweetens Cove since bringing on a team of investors that include the likes of Peyton Manning, but have it maintain the vibe and culture that has defined it for years through the growth. He also outlines some of the new improvements and attention to detail the course will offer including indoor plumbing, food, a new putting green, and more.
What the popularity and notoriety have done for King Collins Golf and Rob lately as well as other projects he is building and working on. Rob also gives some tips and pointers as to what to appreciate when it comes to walking our familiar golf courses and what to look out for from an architectural perspective.
Parting Questions:
Caddy Shack or Happy Gilmore?  Caddy Shack
What's you're walk up song to the first tee at Sweetens Cove?  Shoot the Singer by Pavement
If you could pick one person to play 18 holes of golf with, who would it be and where would you play? My dad at Augusta National
Any last piece of advice for the 18Strong audience?   I think there is a movement in golf where it is more about having fun over your score and your swing: just go out and have a good time.
Find out more about Rob and Sweetens Cove at:
Website  (Sweetens Cove)
Website  (King Collins Golf Course Design)
To continue the conversation and ask any questions you may have, head over the 18STRONG Facebook page.
Access "How To Add 17 Yards In 17 Minutes" now
Discover The Fastest Way To Increase Your Club Head Speed…