"I'm just gonna go out there and swing it and ding it.

" 
–
Brooks Koepka 
proving that overthinking doesn't win championships.
"AUGUST MADNESS" ON THE PGA TOUR?
I wouldn't exactly say the Fed Ex Cup Finals warrant any real comparison to the craze and excitement that we see with NCAA March Madness, but given that the majors season is over, this final stretch to the Tour Championship is all we golf watchers have left to get our fix.

So despite the fact that there aren't any real "cinderella" storylines, likely no painted faces in the crowd, and, I would venture to guess, decidedly fewer beer bongs at the tailgate parties (do people even tailgate for golf events?), some of the changes to this year's finalsformat and purse just might intrigue you. 

With the finals slimming down from 4 events to just 3 this year to accommodate the new tour schedule, the top 125 Fed Ex points holders will compete at the Northern Trust at Liberty National this weekend in an effort to move on to next week's field of 70 at the BMW Championship at Medinah CC.

Not only would advancing to the top 70 guarantee a pretty nice little check, but there are also some other perks at stake, like securing a spot at the following invitationals next year:
·     The Desert Classic
·     The Genesis Invitational
·     RBC Heritage
·     THE PLAYERS Championship

At the other end of the spectrum, a few notable names will not be making an appearance at Liberty National after falling out of that illustrious top 125, including multiple major winner Martin Kaymer.
"REAL WORLD" DRAMA UNFOLDING IN PORTLAND
While the PGA Tour finals might feel like watching reruns of the old show "Lifestyles of the Rich and Famous," this weekend's Korn Ferry event at Pumpkin Ridge (The Win Co Foods Portland Open) is more like watching the season finale of MTV's "The Real World."

Guys are literally fighting for their livelihoods and every shot could be the one that got away. Just ask Kevin Dougherty about this chip on the 18th hole at this very event last year.

This is the last event for these guys to make a run and squeeze into that final top 25 spot and secure their PGA Tour card for next year before heading to the Korn Ferry finals.  The field will be even deeper than normal given that the PGA players (#126-200 on the Fed Ex points list) that didn't retain their card are also in the mix, including studs like Viktor Hovland.

But it's not just the pressure for the guys at the top with a chance to get into the top 25.  While that would definitely be a life-changing accomplishment, it's the guys fighting to stay in the top 75 that really have their backs to the wall.

Falling out of the top 75 results in not making the finals, but even more depressing, a loss of Korn Ferry Tour status for next year.

So, while the guys that are on the bubble for the top 25 are fighting to upgrade to courtesy cars, 8-figure purses, and, from what we're told, some incredible food spreads in the clubhouse the guys on the bubble for the 75th spot are in an all-out battle royale. 

This event basically determines whether they will be able to make a decent living teeing it up on the Korn Ferry next year or loading up the VW bus bound for an endless number of mini-tour events, Monday Qualifiers, and sleepless nights pondering whether that insurance job back home might not have been such a bad choice.
PRIVATE CLUB JITTERS? (WHAT YOU SHOULD KNOW)
Every now and then we're going to highlight some topics about golf that we think you should know (because that's just what friends do, and at one point we wish we had a friend that would have told us this stuff). 

Golfing at a fancy private club can often be the highlight of a golfer's month, year, or even life in some cases.

But depending on the "hoity-toity-ness" of the club, your host, and whether or not you've been there before, it's only normal to experience a little anxiety as you pull into the parking lot.  (Like when you pull up to the bag drop, but your host hasn't arrived yet.  I'm not gonna lie, that can be a little awkward.)  But, fear not!

Even though a super fancy club might seem intimidating from the outside, more times than not, the staff understands your self-induced anguish and they are there to help you feel welcome.  So just tuck your shirt in and relax.

Bottom line, unless you roll in there like Rodney Dangerfield, parking on the grass and telling the chef his cooking tastes like "low grade dog food," just follow some basic universal tips for not making a fool out of yourself, and you have nothing to be worried about.

Although, I will give you one pro tip: 

Always bring some extra cash.  Because nobody trusts a guy that won't put up at least a little side action 😉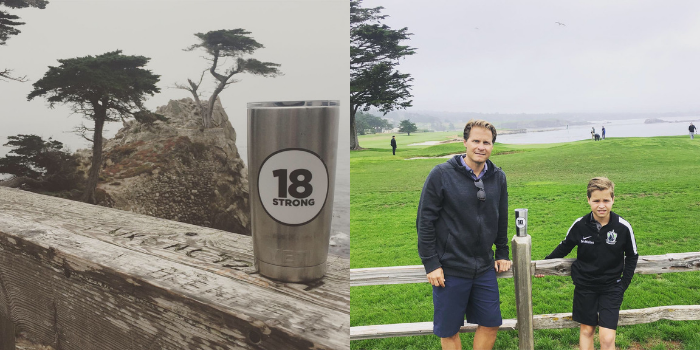 18STRONG hits the West Coast! Ryan (co-founder 18STRONG) and his son Murphy just off the 18th green at Pebble Beach.