FOR NOVEMBER 7, 2019         By RYAN MCMULLEN



"He makes other guys try to do too much and they make mistakes…and more often than not, he's the guy holding the trophy."  – Rory McIlroy talking about Tiger's closing prowess.
This week, the Tour leaves the Asian Swing in the private jet rearview mirror and heads…well, nowhere.  Presumably, the weeklong break is to honor National Men Make Dinner Day as we look forward to next week's Mayakoba Golf Classic, aka "That time Matt Kuchar had an agreed upon $5K fee for his guest caddy, won the tournament, and was mercilessly M-F'd for paying him the agreed upon $5K."  
Some poor guys just can't win
THE $50 MILLION CLUB GETS TWO NEW MEMBERS
Last year, Floyd Mayweather earned $275 million over the 36 minutes he spent in the ring boxing Conor McGregor, which begs the question, "Why do professional golfers even bother?" 
Before Sunday's final round, there had only been eight pro golfers to eclipse $50 million in lifetime earnings, then Rory and Sergio did it on the same day.  It took Rory 12 years and Sergio a whopping 20 years to earn what would take the average American 885 years to earn…okay, that's why they bother. 
You can check out the full list of really rich golfers here.   
If you haven't heard about this, you have been missing out on perhaps the most entertaining golf series on the planet.  "Chase The Ace" is a European Tour challenge in which they give a tour pro 500 balls to make a hole-in-one on a par 3.  And the results are absolutely heroic.
Three players have tried and only one, Andy Sullivan, was able to make an ace (on his 230th ball).  Edoardo Molinari and Brandon Stone were the other two who amazingly didn't leave the course in a straight jacket in the back of a padded truck. 
Thomas Pieters, occasional club thrower, was the latest to try and not go insane doing something he is seemingly over-qualified to do.  I don't want to spoil it for you, but the escalation of his rage is a fascinating study of human behavior. 
Click Here for the best six minutes of your day. 
This week, GOLF.com released their findings of surveying real, card-carrying PGA Tour players about a plethora of golf topics from "Which is the hardest tournament to win" to "Have you ever gotten down with your lady on a golf course."
A few of the highlights:
96% – Players who believe Rickie will win a major
73% – Players who believe Tiger will win another major
$421 – Average amount of cash each player had in his pocket
90% – Players who believe they could beat Tiger in a 36-hole match tomorrow
20%

– Players who admitted smoking grass or eating edibles in the last year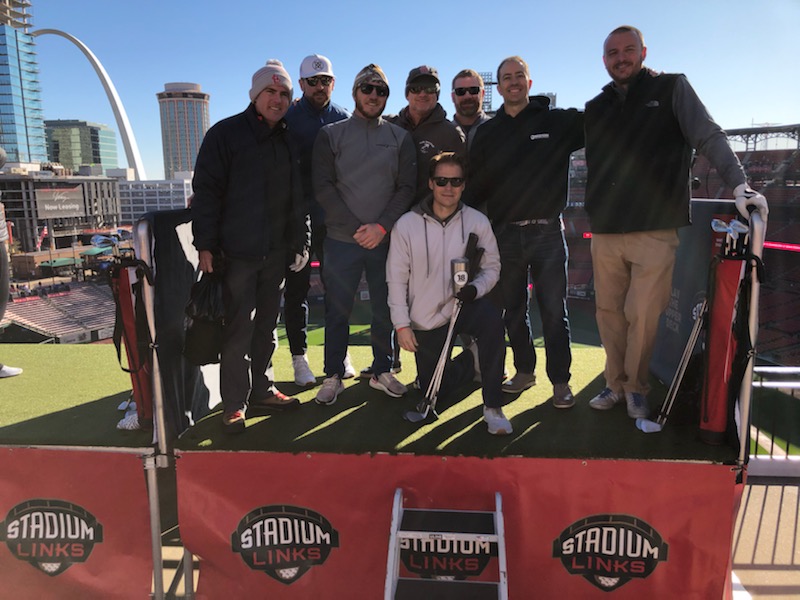 The 18STRONG crew playing nine glorious holes at Busch Stadium in St. Louis.  Not a bad way to spend a Friday morning.  Check out The Arch in the background.