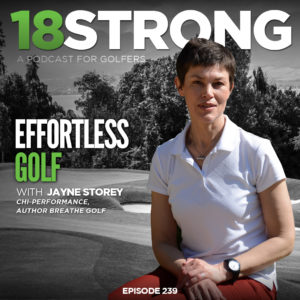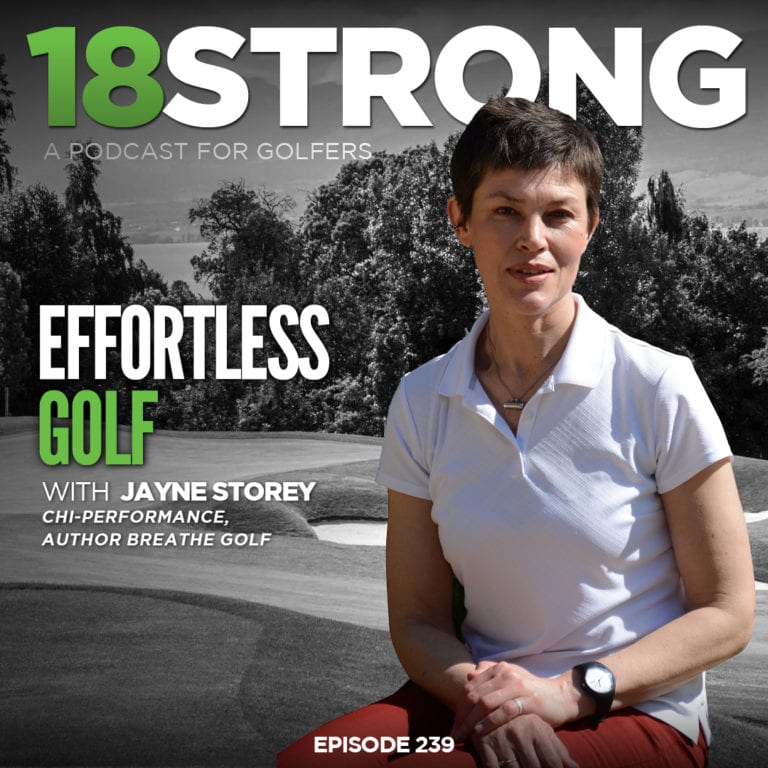 Today I am especially excited to have on our special guest, Jayne Storey.
Jayne is one of the most fascinating coaches I've come across in the game of golf. She is a pioneer of an emerging genre, which seeks to unite Eastern spiritual practice with high performance in pressure situations.
Jayne's expertise is based on a lifetime of deep practice and teaching of Buddhist meditation and Tai Chi, and after decades of research and teaching Jayne's methodology has been proven at all levels of the game of golf.
In today's interview, I get to talk to Jayne about her new book Breath Golf: The Missing Link in High Performance which is the culmination of 7 years of work that she can share with golfers like you and me.  As golfers, we constantly struggle to get the bad thoughts out of our head when we step up to the ball.  In this conversation with Jayne, I got to really dig in to what it means to be present in the moment and truly get out of our head.
Jayne Storey's Background
Jayne's unique approach helps golfers strengthen their mind~body connection so they can bring together their mental game and technique to deliver fluid yet precise shots, especially during competition.
Jayne has successfully coached golfers with a range of experience from juniour players, high-handicap players and competitive low-handicap amateurs, to professional coaches and elite players on tour.
Jayne Storey's Chi-Performance GOLF/SPORT (Est. 2002) is a unique methodology for helping golfers bring together their mental game and technique, access 'the zone' or flow-state of relaxed concentration, and enable superior performance particularly during the intense pressure of tournament play.
To date, the chi-performance GOLF methodology has almost 1,000 students and followers world-wide, with interest from golfers in Australia, Canada, Central America, France, Germany, Hawaii, Holland, Hong Kong, Italy, Kenya, South Africa, Spain, Sweden, Trinidad and Tobago, United Arab Emirates, and the United States as well as the UK.
Highlights from this Episode
Her background in Eastern training through meditation and Tai Chi and how she claims golf is not a mental game like we keep hearing it is. We dive into how her book is counter-intuitive to what most other golf books are teaching us: it's not about finding more information, but reverting to and mastering the simple process of breathing.
How we balance the need for working on the basics of the technique and understanding what our body needs to do on the course and shutting it off when you go out to play, especially in high-pressure scenarios like competitive playing.
Her distinction on meditation: what it means to her vs. what it has become in the mainstream. She also dives into what our body and mind are doing when we are in a meditative state and how utilizing these benefits can greatly affect your golf game for the better.
How tour players are utilizing this meditation and breathing practice, as well as the similarities between Tai Chi and the golf swing and how Tai Chi can greatly improve core aspects of your game like balance.
Parting Questions
Caddy Shack or Happy Gilmore?  Bagger Vance (or Happy Gilmore)
What's you're walk up song?  Maria Callas
If you could pick one person to play 18 holes of golf with, who would it be and where would you play? Jack Nicklaus at St. Andrews
What has you most excited for your work coming up?  The emerging genre of the mind-body connection is a new frontier in the sports fitness and performance world and I like to think I'm pioneering that.
Any last piece of advice for the 18Strong audience?   I agree with the 18Strong motto "Train hard (while incorporating eastern training), practice smart, and play better golf."
Find out more about Jayne at:
Her latest book 'Breathe Golf; The Missing Link to a Winning Performance' is now available on Amazon
Episode Sponsor:
SuperSpeed Golf use the code "18STRONG"
To continue the conversation and ask any questions you may have, head over the 18STRONG Facebook page.