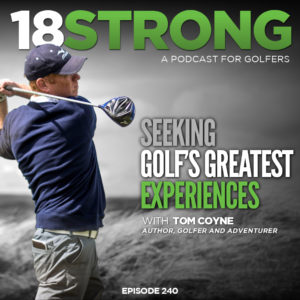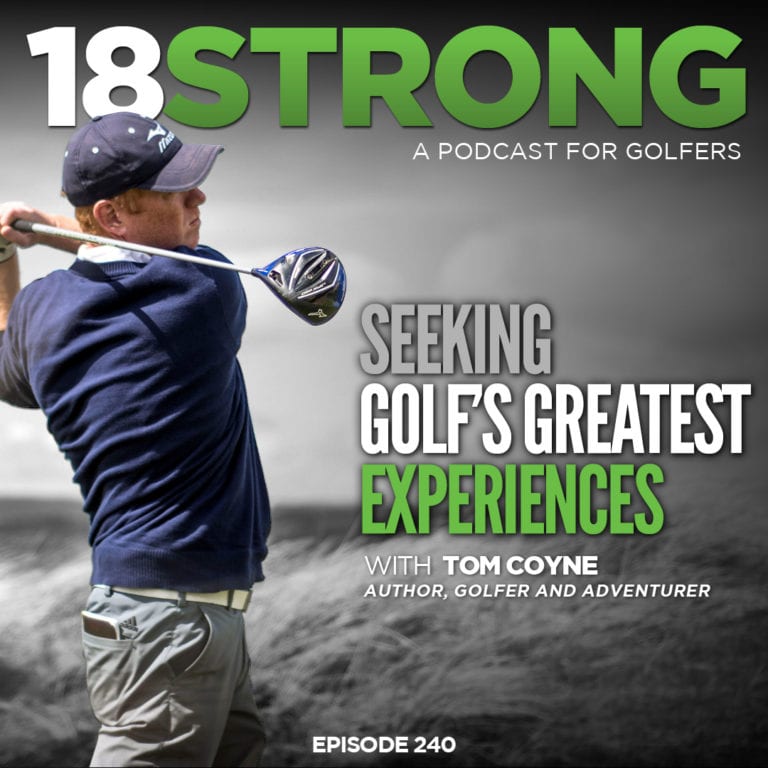 Today I am especially excited to have on our special guest, Tom Coyne.
Tom is much more than a golf writer; yes, he's written multiple best-selling golf books and has many contributions to golf publications, but I consider Tom a Golf Adventurer.
He's a guy that loves the game so much and is willing to do the extremes when it comes to his journeys in golf and thanks to his willingness to do a deep dive into these crazy adventures, we all learn more about the heart, soul, and history of this game we love.
It wasn't until recently that I found Tom's work and came to find out that he is on a new journey across the States playing an insane amount of golf for his next book A Course Called America.
In this episode, we not only get into the details of this latest endeavor but also his previous books A Course Called Ireland and A Course Called Scotland, and the amazing insights he has gleaned into the heart and soul of the game and stories around the game of golf.
Access "How To Add 17 Yards In 17 Minutes" now
Discover The Fastest Way To Increase Your Club Head Speed…
Tom Coyne's Background
Tom is Senior Writer at The Golfer's Journal, and has written for Golf Magazine, Golfweek, Sports Illustrated, The New York Times, and numerous other publications.  He is also a host and writer for the travel television series, "Golfing the World."
Tom earned an M.F.A. in fiction writing from the University of Notre Dame, where he won the William Mitchell Award for distinguished achievement.
Tom Coyne is the author of the novel A Gentleman's Game, which was named one of the best 25 sports books of all time by The Philadelphia Daily News, Paper Tiger: An Obsessed Golfer's Quest to Play with the Pros was released June 2006, and was an editor's pick in Esquire Magazine and USA Today, and a summer reading selection in The New York Times, as well as A Course Called Ireland: A Long Walk in Search of a Country, a Pint, and the Next Tee, was published by Gotham Books in February, 2009, and it chronicles his quest to walk and golf the whole of Ireland.
His anticipated follow-up to A Course Called Ireland was released by Simon & Schuster in 2018: A Course Called Scotland was an instant New York Times bestseller, and chronicles Tom's quest to play every links course in Scotland, searching the highlands for the secret to golf and a tee time in the oldest championship in sports.
He lives outside Philadelphia with his wife and two daughters, and he is an associate professor of English at Joseph's University.
Highlights from this Episode
How he got into golf writing, as he claims, accidentally from his background and education in fiction writing and how his history in caddying led to the creation of A Gentleman's Game.
What his journey and research into his upcoming book A Course Called America looks like by traveling to all 50 states to playing every course to ever host a U.S. Open, in an attempt to learn more about what makes American golf great and what the perfect American golf course looks like.
The logistics of planning these golf trips where he is hitting up hundreds of golf courses over the course of months, and the importance of keeping the story about the people he plays with and the game rather than a play-by-play of each course.
What his expectations for playing these great American courses after playing the greatest links golf in the founding home of golf across the pond and what significant differences he has learned to appreciate and respect with the different games.
The pure golf movement that he sees growing where they are focusing on the experience of the game as an enjoyable experience rather than beating yourself up over score.
Parting Questions:
Caddy Shack or Happy Gilmore?  Caddy Shack
What's you're walk up song?  Baba O'Riley by The Who
If you could pick TWO people to play 18 holes of golf with, who would it be and where would you play in both Ireland and Scottland?  My Dad and Tiger or Rory McIlroy at Carne in Belmullet (Ireland) and Askernish (Scottland)
Any last piece of advice for the 18Strong audience?   Be present when you're golfing, the game gives you the opportunity to be in the moment that rarely comes in the rest of our lives.
Find out more about Tom at:
Episode Sponsor:
SuperSpeed Golf  use the code "18STRONG"
To continue the conversation and ask any questions you may have, head over the 18STRONG Facebook page.

Access "How To Add 17 Yards In 17 Minutes" now
Discover The Fastest Way To Increase Your Club Head Speed…