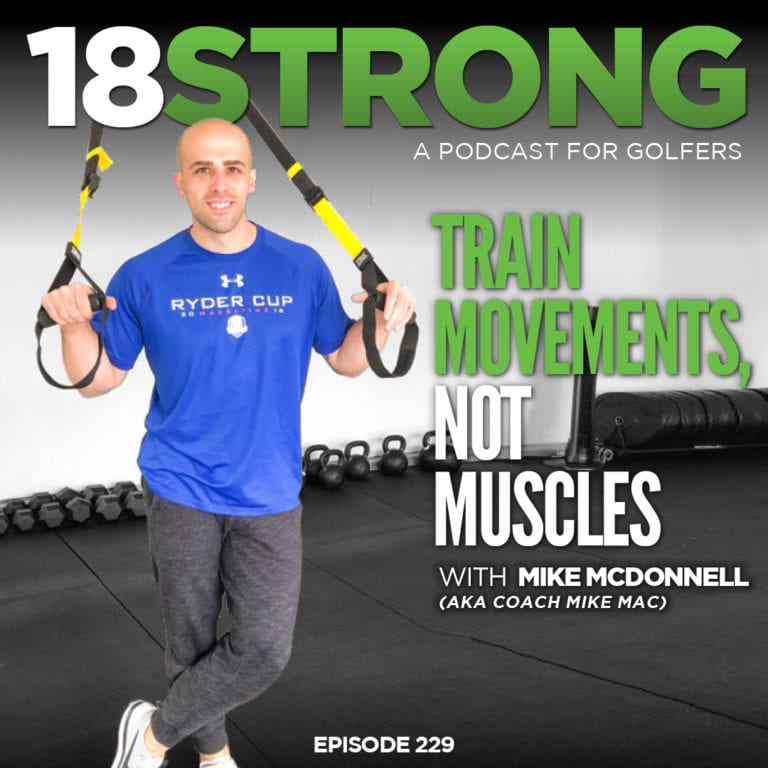 Today I am especially excited to bring back on our special guest, Mike McDonnell.
Today, we're talking with Coach Mike McDonnell from CoachMikeMac.com about the training methods that golfers are using today.   Mike's explains the philosophy of training movements and not just body parts or muscles specifically, and the importance of assessing yourself or being assessed by a fitness professional when getting started with your golf and fitness program.
This episode is packed with a lot of practical advice to take and implement directly into your workout programs and will get you thinking about how you are preparing yourself not just for your game, but everything thing you do.
Mike McDonnell's Background
Coach Mike is a Titleist Performance Institute (TPI) certified golf fitness specialist, an NSCA Certified Strength and Conditioning Coach (CSCS), and creator of the Golf Movement Academy online training program
He runs an online fitness business (Coach Mike Mac) specifically for golfers with clientele across the country where he trains golfers of all ages from competitive juniors, to recreational players, to Web.com Tour professionals.
Mike believes in a movement-based approach to training that is centered around assessments and programs designed specifically for each individual. He connects how movement deficiencies in the gym manifest themselves in swing faults on the course. Fundamental qualities to his approach include mobility, stability, strength, and training in multiple planes of motion.
Additional certifications of his include: FMS, Precision Nutrition (Pn1), and the Functional Range Conditioning (FRC)
Highlights from this Episode
Mike's background in fitness, how he found himself as a golf instructor and revolutionizing his business through online training, and how his psychology degree serves him a lot more than anything else when training others in terms of a relations stand-point, understanding what motivates people, and overcoming obstacles of what people think they can and can't do.
His past work in assisting in creating the exercise program curriculum while working for Equinox as a Tier X coach, and how that helped him find his passion for teaching and what he took away from his time teaching their that he uses with his clients.
What his base-line fundamentals and philosophies that he teaches day one with his clients and the importance of knowing the 3 things all golfers strive for: playing pain-free golf, shooting lower scores, and hitting it further.
Making a program golf-specific: the idea of sports specific training and how we can define a golf fitness routine that fights against the caricature of what many people think it looks like, to what professional golf trainers are actually putting into practice. He also dives into why he likes to work on movements rather than target the muscles. 
Parting Questions:
Caddy Shack or Happy Gilmore?
Happy Gilmore
What is your walk-up song to the first tee-box?
Numb (Encore Remix) – Linkin Park/JayZ
If you could play 18 holes with anyone in the world, who would it be and where would you play?
Tiger Woods, Ed Mylett, and Will Smith at Augusta
Any Last Piece of Advice?
Train movements, not muscles
Connect with Mike McDonnell:
Website
Instagram
Email: [email protected]
To continue the conversation and ask any questions you may have, head over the 18STRONG Facebook page.
Episode Sponsor: