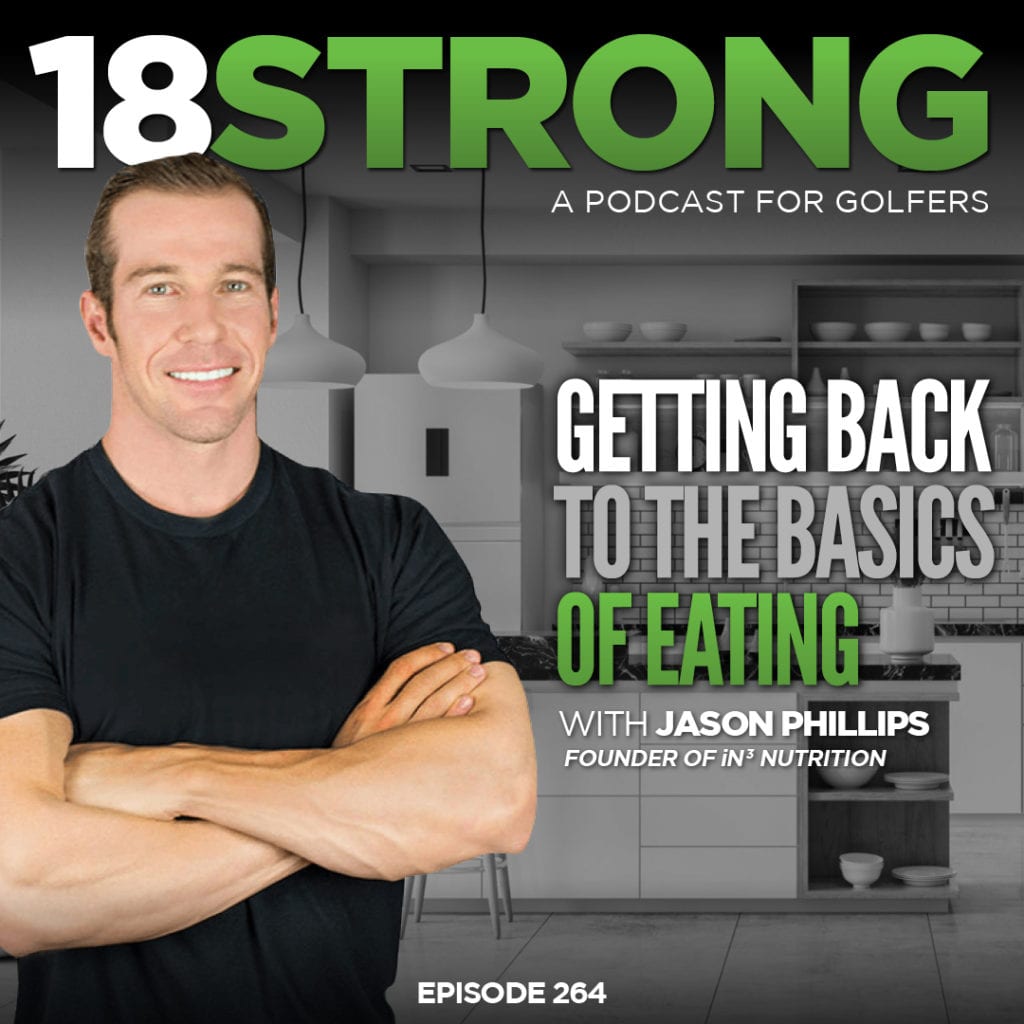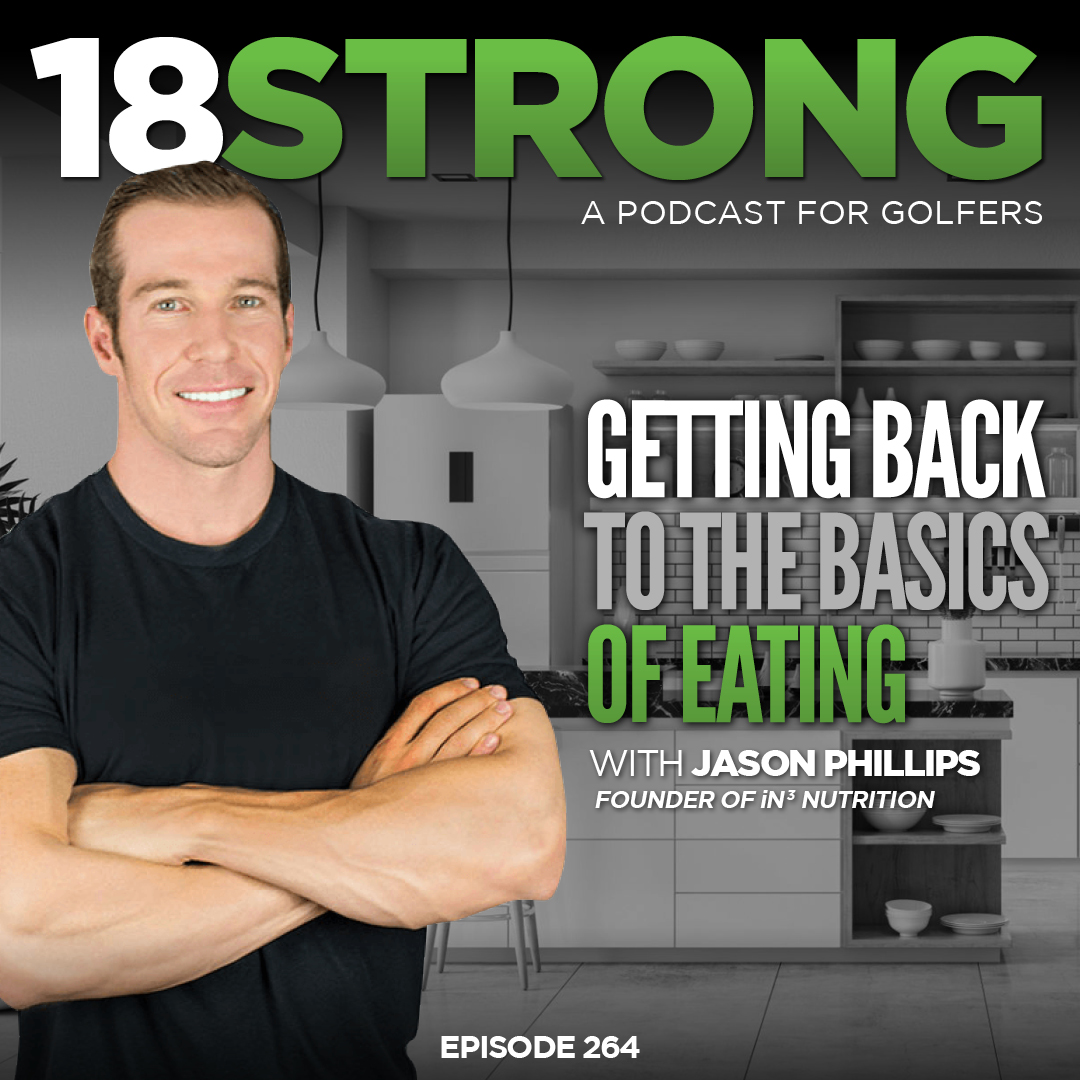 Happy New Year 2020! This week, to celebrate the new year, we have on Nutrition specialist, Jason Phillips from iN3 Nutrition and the founder of the Nutritional Consulting Institute.
Jason is a wealth of knowledge, but also has a background in golf from playing some of the mini-tour and working with PGA professionals on not only their nutrition, fitness, and training.
He travels the world educating and speaking on nutrition, as well as certifying nutritional coaches and consultants. You're not only going to hear his incredible story on how he transitioned into becoming a coach and what inspired him to be the world-renowned nutrition expert, but we're also going to answer some of the nutritional questions you have going into your 2020 resolutions and setting yourself up for success for your long-term changes.
Jason Phillip's Background
Jason Phillips has been everywhere and done everything from cover model to professional athlete to founding his companies iN³ Nutrition and the Nutritional Consulting Institute.
Jason has written for several publications including Men's Fitness and his own book, Macros Explained: Your Ultimate Guide to Macronutrient Prescription for Health, Performance, and Aesthetics.
His newest book; Macros Applied: Bridging the Gap from Science to Application hit the market in February of 2019.
Jason's journey began with his battle with anorexia. He uses that experience today to help thousands of people achieve their fitness goals.
His formal background comes from Florida State University where he majored in exercise science with a concentration in fitness and nutrition. He has consulted for reality weight-loss shows, traveled with the PGA tour, and has helped several functional fitness athletes improve performance.
Jason and his team are committed to helping individuals reach their personal best through nutrition counseling, macronutrient coaching, and motivational mentorship.
Highlights from this Episode
His background in golf and how a pivotal injury he had after taking a college scholarship in golf, as well as body image issues and a battle with anorexia shaped and solidified his future in coaching and nutrition.
How his nutritional work and clientele varies from PGA Tour Professionals, players in the NFL, NHL, and celebrities.
His thoughts on the mantra of setting these new resolutions and going "ALL IN" on diets, detox, or cleanses and how they have their place in the bigger picture.
The Triangle of Awareness and how giving people an idea of what they are actually focusing on is going to really help determine what they should be doing as far as diet.
Aesthetics vs. Performance vs. Longevity, the difference in caloric balancing from deficit to surplus and how you can't balance both simultaneously. He also dives into personal examples of how the weight loss and body building industry builds up a façade of what health should be and the sustainability of that.
He breaks down suggestions for tracking calories, when to introduce macros, and other nutrition "buzz words" that we see floating around at this time of year.
Caddy Shack or Happy Gilmore? Happy Gilmore
If you could pick a walk-up song to the first teebox, what would it be? Won't Back Down by Tom Petty
If you could play 18 holes of golf with anyone, who would it be and where would you play? Gary Vaynerchuck at Augusta

What has you most excited for 2020? I think you're going to see a return to the golf industry in 2020.

Any last piece of advice? The result is always inside yourself, just triple down on yourself.
Follow along with Jason Phillips and iN3 at:
Articles mentioned:
BACK TO BASICS – UNDERSTANDING MACRONUTRIENT PRESCRIPTION
DECONSTRUCTING THE FRAME w/ Jason Phillips
Episode Sponsors
SuperSpeed Golf: Use the code "18STRONG" at SuperSpeedGolf.com
LINKSOUL: For your 20% discount on LINKSOUL gear, go to 18strong.com/linksoul or click the logo below.