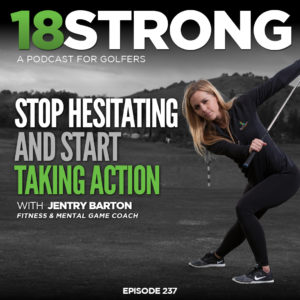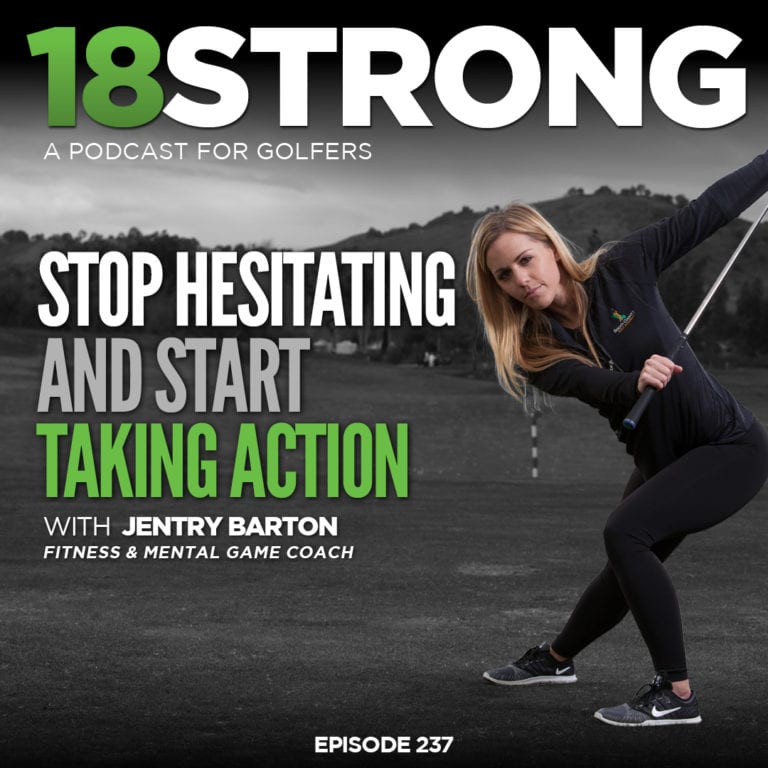 Today I am especially excited to have on our special guest, fitness and mental game coach, Jentry Barton.
Normally when wewe talk about the "mental game" we are speaking in terms of on-course tactics and strategies.  But today we have on Jentry Barton to talk the mental game as it relates to our fitness by getting into the gym and staying focused on what we need to do to make our bodies our most important golf tool.
We tackle some of the misconceptions that lead people to be lost on what they should be doing, how much they should be working out, and how to keep things simple to play their best golf.
Jentry Barton's Background
Jentry is the Director of Golf Fitness at South County Golf Acadamy. She also is an assistant coach for the JSerra Golf teams as their Mental and Fitness Coach, and she is the National Director of Fitness for Nike Golf Camps.
With her Bachelor's Degree in Elementary Education from BYU-Idaho, she has a deep understanding of child development and the importance of athletics in developing bodies and minds. She is ACE certified, as well as Titleist Performance Institute Level 1 certified.
Jentry coaches our junior athletes in our Junior Performance division and has a passion for helping children grow through athletic development. She has worked with, and trained children ages 5-18 at the Y.M.C.A, Pump it Up, and Frog's Fitness Club One in Encinitas, California. She designed programs, charted improvement and managed the programs for these corporations to help children grow in their athletic abilities.
Jentry has also worked with different levels and all ages looking to improve their golf game as well as their overall health and wellness. She has helped clients lose weight, improve their balance and posture, and increase their flexibility and stamina. Jentry has always had a passion for fitness, being involved in many sports including; golf, volleyball, basketball, surfing, and running. She is constantly looking for ways to learn, improve and help those she works with see the benefit of Fitness, and Healthy Living.
Highlights from this Episode
How she transitioned from her background in Elementary Education to the golf and fitness instruction she leads today as well as the background on South County Golf Academy and the work she does there today.
The story of how she connected with our mutual friend, Jeff Ritter, and how things unfolded for her from listening to a previous episode of the 18Strong podcast. She also dives into how she implements her knowledge on the mental game into the gym and fitness areas rather than just on the golf game and the importance of mindfulness when approaching a workout regimen.
The hesitations she sees from golfers that know they need to work on their fitness game but hasn't totally bought in, and the changes she sees from golfers that fully commit to revolutionizing both their workout and their mentality around fitness and golf.
She talks about working with juniors and both the differences with them in implementing the athleticism while knowing they aren't going to be taking the full written out program like your adult golfers and fundamental movement patterns like being able to separate their upper and lower body and independently load muscles.
She expands on her philosophy of keeping it simple when it comes to your workout and steps golfers can take to maximize their workout on their own. We also go into setting expectations as it comes to your workout program for golf: From believing that their workout will have no effect on their game to those that believe the workout is the answer to all of their problems, we talk about the balance of how much our workouts should improve our game and what will not improve our game.
Parting Questions:
Caddy Shack or Happy Gilmore? Happy Gilmore
What's your walk-up song?  The Adventure – Angels and Airwaves
If you could pick one person to play 18 holes of golf with, who would it be and where would you play? John Elway at Kingsbarns
What has you most excited about your career and what you are doing right now?   I am loving the opportunity to learn from others and be on the ground floor with Nike and Jeff Ritter.
Any last piece of advice for the 18Strong audience?  The simple things are going to make you successful, where your mind goes your energy will flow.
Connect with Jentry Barton at:
Episode Sponsor:
SuperSpeed Golf use the code "18STRONG"
To continue the conversation and ask any questions you may have, head over the 18STRONG Movement Facebook Group .