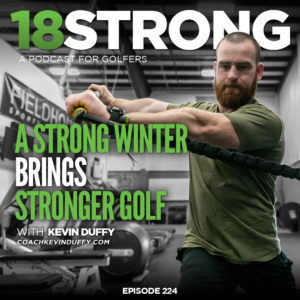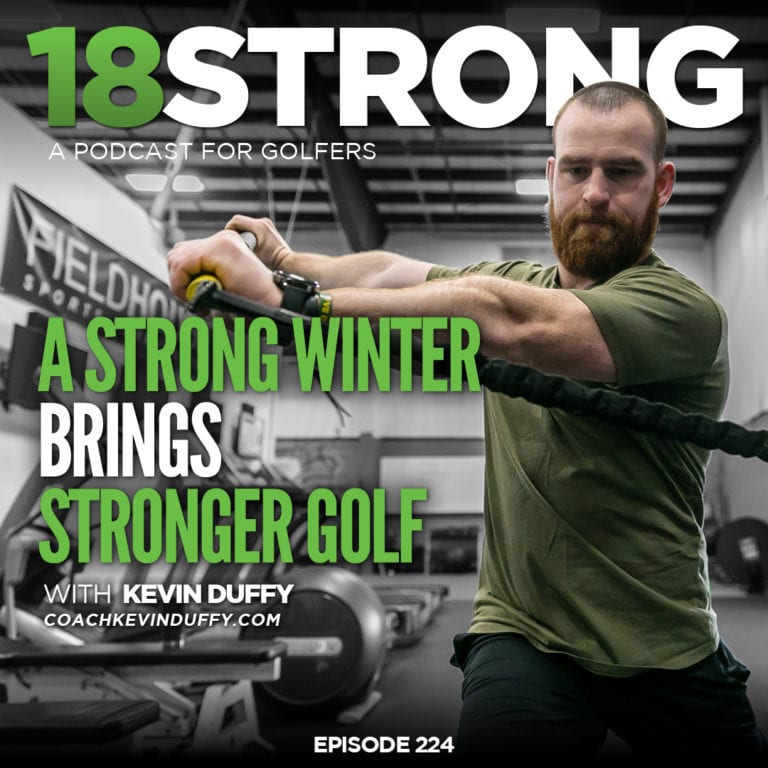 Today I am especially excited to bring on our special guest, Coach Kevin Duffy.
Are you making the most out of this off-season? Some of the most common problems golfers experience on the course when the season comes around are lack of distance, lack of endurance, and not being any better and, if anything, being a little rusty from the year before.
Physically, you have to try and balance keeping up with your workouts while making sure you're not too sore on the links or vice versa. In this episode we dive into "The Strength Window" in the off-season to get you prepared for the workouts when the season comes up and if you listened to "Episode 221: 5 Non-Golf Things You Should Do This Winter", than this episode with Rotational-Specific Strength and Conditioning Coach Kevin Duffy will be the perfect follow up.
Kevin Duffy's Background
Kevin Duffy is a Certified Strength and Conditioning Specialist (CSCS) based out of Sudbury, MA.
Known as 'Coach Duff', Kevin has a vast amount of experience with training athletes of all levels and he is specifically experienced in Golf and Rotational specific work.
Coach Duff specializes in working with rotational athletes especially golf. Kevin has gone on to continue his education through Titleist Performance Institute (TPI) levels 1 and 2 in golf fitness. Duff excels at raising the level of performance with groups of athletes in a team setting as well as with individual programs and small group programs.
His outlook: "Do the simple things savagely well, to produce uncommon results"
Highlights from this Episode
His background as Coach Kevin Duffy in the public and private sectors, and how he branched into the golf world through TPI and his rotational work.
His TPI presentation at the PGA show where he talked about how not enough golfers are training early enough in the off-season, and the importance of his 4 exercises and the "The Strength Window" that can be implemented into everybody's program:

Deadlift: The deadlift and the hip-hinge are what help puts you over the ball. Once you get over the ball, you want to feel strong over it, which the deadlift helps with while promoting good posture.
Farm Walk: Maintaining a movement and posture while reigning in the spine rotation.
Pull-up: Another posture builder, the pull-up sets can help not only with strength conditioning for the new season, but with shoulder strength, stability and confidence.
Step-Up: Simple endurance workouts, which can condition you for the upcoming season and carry over into the seasonal power and speed exercises.

How he programs these 4 exercises with his clients in the off-season and how it's about variation and simplicity over trying to over-complicate. It's always better to do something simple consistently rather than overcomplicate and get lost in the process.
He breaks down his famous "door-kick" call sign on each of his videos.
Parting Questions:
Caddy Shack or Happy Gilmore? Happy Gilmore
What would be your walk-up song to first teebox?  Rage Against the Machines "Born of a Broken Man" & "Bulls on Parade"
18 Holes anywhere in the world with anyone, past or present: Where would it be and whom would you play?  Jullian Edelman and Tom Brady at Augusta
Who has been instrumental in becoming the Coach you are today?
Jason Glass and his "gut check" moments that have helped in my growth and keeping me in line with knowing how to grow.
Any last piece of advice for the 18Strong Community?  Get after it and enjoy the chase!
Learn more about Kevin and his work at Fieldhouse:
To continue the conversation and ask any questions you may have, head over the 18STRONG Facebook page.
Are you lost?  Don't know where to start when it comes to your Golf Training? We've got you covered.  Check out the 18STRONG ELITE membership!